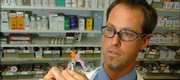 An outbreak of H1N1 Swine Flu was reported in Mexico in April 2009. By the end of May, it had spread across the U.S., with all 50 states reporting cases.
The Lawrence-Douglas County Health Department will be host to a town hall meeting on the H1N1 influenza virus, commonly known as swine flu.
The meeting will be at 7 p.m. Oct. 15 on the second floor of the Community Health Facility, 200 Maine.
The meeting will be led by Dan Partridge, director of the health department, and other public health officials.
Community members unable to attend the meeting or who would like to submit questions in advance may do so by e-mailing info@ldchealth.org.
The town hall meeting precedes several H1N1 immunization clinics that have been scheduled by the department.
The first one will be from 2 p.m. to 6 p.m. Oct. 21 in Haskell Indian Nations University's Coffin Sports Complex, 155 Indian Ave.
The department has scheduled four at the Douglas County 4-H Fairgrounds, 2120 Harper St. They will be from 2 p.m. to 6 p.m. Oct. 28, 4 p.m. to 8 p.m. Oct. 29-30, and 9 a.m. to 1 p.m. Oct. 31.
The department will provide the vaccine for no cost and will give them only to those who are most at risk of getting the H1N1 virus.
That high-risk group includes: pregnant women, people who live with or care for children younger than 6 months of age, health care and emergency medical services personnel, people between the ages of 6 months and 24 years old, and people between the ages of 25 and 64 years who have chronic health conditions.
Lisa Horn, spokesperson for the health department, said the schedule is tentative as delivery of the vaccine is not certain. Clinics are subject to change and may be rescheduled. More clinics are planned in Lawrence and outlying communities and will be announced at a later date.
For more information, call the health department at 843-3060 or visit ldchealth.org.
Copyright 2018 The Lawrence Journal-World. All rights reserved. This material may not be published, broadcast, rewritten or redistributed. We strive to uphold our values for every story published.