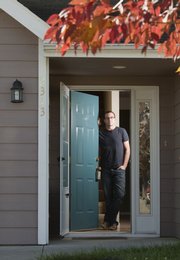 -->
On the street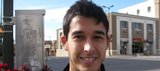 No, I think it's a fair practice. It can be annoying from time to time. As long as they're not too pushy, it's OK.
John Kary is getting a bit frustrated by all the salespeople showing up lately on his east Lawrence doorstep.
They want to clean his gutters, clean his carpets, clean his car, sell him non-toxic eco-friendly house cleaner — and they'll pull any stunt to make a sale.
"I'm not sure what's going on, but there has been kind of a rush of door-to-door sales people that have come by my house," said Kary.
Police said there are multiple reports of Lawrence residents being hassled and annoyed by door-to-door solicitors recently, sometimes at odd hours of the night.
Spokesman Sgt. Bill Cory said van loads of young adults are being brought to town and dropped off to "work a neighborhood" for the day. After selling magazine subscriptions all day, the group's off to the next town.
Then there's the guy driving around town, knocking on people's doors and asking them to buy meat from the back of his pickup truck.
Officers say there's absolutely nothing wrong with these peddlers, as long as they obey city laws.
That's the problem, Cory said. Not all are.
Anyone selling products door-to-door must purchase a $25 solicitor's license from the city clerk's office at City Hall, 6 E. Sixth St. Cory said some folks are selling without one, a crime that can land violators in jail.
"The city has a right and really needs to know who's coming and who's going from their town, selling things door-to-door," said Cory.
When issuing a license, the city collects the person's name, information about what they're selling, sales tax number and even snaps the applicant's picture and fingerprints.
Police are also getting several calls about the salespeople being too aggressive and pushy. Cory said if they cross the line, solicitors can be arrested for crimes such as deception or disturbing the peace. If they do have a city license, it can also be revoked.
"If they are forceful, if they are rude, if they're trying to sell you one thing and then turn around and give you something else," he said. "Police can act on those."
Douglas County District Attorney Charles Branson has said some salespeople are scamming residents, through price gouging, phony claims and failing to deliver products.
In August, Branson said a Lawrence woman was issued a receipt by a salesperson who claimed to be raising money for a children's hospital. The transaction was fraudulent.
So far this year, the city's sold 162 permits, compared to 146 in all of last year.
Copyright 2018 The Lawrence Journal-World. All rights reserved. This material may not be published, broadcast, rewritten or redistributed. We strive to uphold our values for every story published.