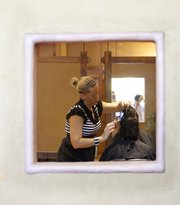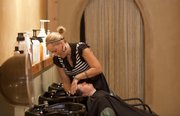 Kristie Wilson says the days of roller sets and spending an hour and a half getting ready to go out the door are long gone.
With two kids at home and another on the way, Wilson, master hair stylist at Salon Di Marco, 733 Mass., has adopted some simple tricks that cut the time she spends on her daily beauty routine.
"I think that women now are realizing that looking good makes them feel good, too," she says. "But sometimes it's like there's not enough time in the day."
Instead of complicating your life with time-consuming hairstyles and elaborate makeup, focus your look on simplicity. You may come to find that less is more as you amplify your natural beauty.
Effortless hair
One way to save some time: Don't wash your hair every day.
"Unless someone has oily hair or they work out every day, they can wash their hair every other day," Wilson says. "I always tell my clients to wash their hair the night before, so when they wake up in the morning their hair naturally has more body and is more tousled."
In the morning, if there are parts of your hair that don't look good, spritz the places you want to fix with water, then restyle them with a blow dryer or hair product.
Laura Bartholomew, stylist at Hair Experts Salon and Spa, 2100 W. 25th St., says shorter is easier for people with straight hair.
"I find it easier to keep straight hair at a shorter length because you don't have to spend time adding volume to it," she says.
After washing, she recommends a blow-dry lotion for hold.
"The style now is a more messy, natural look, so when drying the hair, just mess it up with your fingers instead of using a round brush," Bartholomew says. "To add volume to the hair, do some back-combing and use a little hair spray for hold. You can also do this for touch up during the day."
For people with curly hair, getting it to cooperate depends on the cut and style. Curly hair needs layers.
"There are definitely good layers and bad layers," Wilson says. "Getting a proper haircut with layers that accentuate the curls is so important."
When styling curly hair, "use a curling iron to reshape any fuzzy spots," says Bartholomew. "If you wash it, you don't have to blow-dry it afterwards. Just put some duckbill clips around the roots to add volume and let the hair air dry."
To minimize frizz and for touch-ups later in the day, she suggests using a curl refiner to maintain your look.
Flawless skin
After 32 years in the business, Pam Biemick, a Lawrence licensed esthetician and international makeup artist, understands why women want to look polished when they go out.
The most important way to achieve this look is to get your skin in shape.
"Skin care is the key to good makeup," Biemick says.
Three steps that will help your skin look better than ever:
• Use a cleanser, a toner and a moisturizer. If you are going outside, be sure to use a moisturizer with SPF protection.
• Use a washcloth at night to exfoliate the skin and an eye cream to reduce the appearance of fine lines and wrinkles.
• For those who have trouble with acne or redness, it's important to treat the skin before applying makeup.
"Spot treatment should be used to treat blemishes," Biemick says. "You can also use a medicated foundation that has salicylic acid or benzoyl peroxide in it to even out skin tone."
Natural makeup
Once you've taken care of your skin, you are ready to begin makeup application.
Biemick starts the process with the eyes. Whether you use a liner or a single color of shadow, be sure to use mascara on your lashes to open up the eye and give it some definition.
The next step is to apply a foundation to even out the skin tone, she says. This can be either a dry powder or liquid. For more mature skin, liquid foundation is a better choice so the color won't settle into wrinkles.
Instead of tanning, if you want your face to have a little color, apply a light bronzer for a sun-kissed look on the cheeks, forehead, nose and chin, Biemick says. For a flushed look, smile and apply blush to the apples of your cheeks.
Don't neglect your lips. They need to be moisturized too. Try using a tinted beeswax lip moisturizer, like Burt's Bee's, she says. If you want to vamp up your look for the evening, try out a bold lip color like a deep crimson, coral or bright red.
While many swear by their beauty tools, your fingers are just as good when applying makeup. Instead of spending your money on 10 different makeup brushes, buy one good-quality powder brush.
Decide what feature you want to play up on your face, and then choose what look is best for you, Biemick says. If you have thinner lips, you probably want to shy away from dark colors. Likewise, if you have smaller eyes, it's probably best to do a light eye.
After understanding these basics about hair and makeup application, choose products and a look that suit your hair, skin type and facial features.
Its easy, if you know how to treat your skin and hair, to establish a beauty routine that takes up less of your time.
Copyright 2018 The Lawrence Journal-World. All rights reserved. This material may not be published, broadcast, rewritten or redistributed. We strive to uphold our values for every story published.