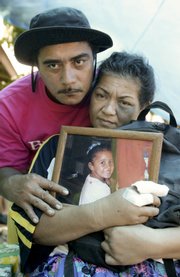 Leone, American Samoa — Taitasi Suapaia Fitiao is preparing for every parent's nightmare — burying her young child.
Her 6-year-old daughter, Vaijoresa, was ripped from her arms as an enormous wave from Tuesday's tsunami swept them up. As she floated away, out of reach, Vaijoresa pleaded, "Mom, please."
"I just can't believe that she's gone. At such a young age, you know? No parent should have to bury their child. It's supposed to be the other way around," Taitasi Fitiao said Saturday while sitting on her front porch next to a shrine to her daughter.
She said she just hopes her daughter didn't suffer too much pain.
It's difficult talking about it too, but Taitasi said she wants the world to know how beautiful Vaijoresa was.
Painful stories are heard with heart-rending frequency these days in American Samoa and neighboring Samoa, where tsunami waves roared ashore after an earthquake with a magnitude of up to 8.3 in the Pacific Ocean, killing at least 170 people.
The figure could rise with at least eight people on Samoa still missing. Also, an AP photographer on Saturday saw a body pulled from rubble at the devastated Samoan village of Lalomanu that apparently wasn't listed in the official death toll. Officials could not immediately be contacted.
A national prayer service for victims and survivors is scheduled for today at the headquarters of the Congregational Christian Church of America Samoa, the largest religious denomination in the U.S. territory.
Territorial Gov. Togiola Tulafono said Saturday the service will bring the community together in the aftermath of the disaster.
In Samoa, scores of grieving people made a heartbreaking decision Saturday to sign over victims of the tsunami to the state for burial rather than take them back to ravaged villages for traditional funerals.
Government ministers told a congregation of 100 village and family leaders in a traditional wall-less Samoan meeting house that the state would carry the costs of mass graves of up to 20 in a new cemetery in the capital Apia on Thursday following a memorial service in a nearby sports stadium.
The proposition was voluntary and the government will consider financial assistance to grieving relatives who elect to take their loved ones home.
Government minister Fiana Naomi said she expected about half of Samoa's 129 victims would be buried there.
Tears welled in her eyes as she told The Associated Press that the mass funeral was a radical departure from Samoan tradition.
But she said many of the village homes near where the relatives would traditionally be buried were gone and might not be replaced.
"It's very different, but it's very unusual circumstances," she said.
"The government sees the devastated areas, there are no buildings there, some villages might be relocated, people have lost everything and they can't hold ceremonies in the usual ways," she said.
"Usually they're very large communal ceremonies, but this is memorializing this event to serve as a constant reminder to us that we need to be prepared for natural disasters," she added.
Leone residents estimate the tsunami destroyed about one-third of the village, which has a population of 3,000. The victims were mostly elderly or toddlers. Four villagers were killed while making crafts on the shore.
Friday will be the day that Taitasi buries the youngest of her seven children, the active, playful first-grader who was rushing home from school with two cousins after the earthquake hit. Taitasi saw them on the way and grabbed Vaijoresa just as the wave hit.
Copyright 2017 The Associated Press. All rights reserved. This material may not be published, broadcast, rewritten or redistributed. We strive to uphold our values for every story published.