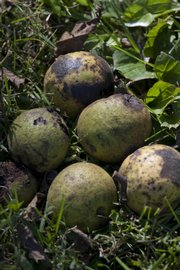 Cackling squirrels and the pings of black walnuts hitting the metal roof of my garden shed tell me that fall is really here and bring memories of my father picking the nutmeats from the tough black walnut shells.
This time of year also brings calls of black walnut tree owners wondering if their walnuts have any value. The answer: Maybe.
Jackie Kennedy, whose late husband, Max, used to harvest black walnuts from their property, believes that the shelling process is more work than it is worth. "Max used to pick them up, but I just mow over them," Kennedy says.
Kennedy's sentiments are shared by many. My father uses a hammer and anvil to crack the tough shells. Others I know use specialized heavy-duty nutcrackers or bench vises. One Web site suggests wrapping a belt around the shell before hitting with a hammer to keep the nut semi-intact.
If you wish to try to harvest black walnuts, you will first need to remove the green outer hulls. Beneath the green skin is a black, sticky substance that can seep into the shell and the nut, and will also stain hands and clothing. Many people gather the nuts and spread them over a driveway to dry and then drive over the nuts repeatedly with a motorized vehicle to remove the hulls. Another idea is to drill a hole in a board that is large enough for the walnut but smaller than the hull, then pound the nuts through. A corn sheller also works.
Once the hull is removed, the nuts should be washed and dried for about two weeks prior to cracking.
If hulling sounds like too much work, black walnuts may also be taken to walnut hulling stations. Anyone may drop off walnuts at the stations (Kansas locations include Garnett and Valley Falls) to be picked up later in the season by Hammons Products Company from Stockton, Mo. Hammons processes and packages the nuts for sale. Persons dropping off walnuts at a hulling station will be paid for the nuts, but the price varies with the supply and demand of walnuts. This year, hulling stations are paying $9 per 100 pounds of black walnuts, and the price may fall later this month.
Even though Kennedy's husband enjoyed cracking and eating the distinctively flavored black walnuts, they weren't growing walnut trees for the nuts. The Kennedys' rural Douglas County bottomland property is home to a native stand of black walnut trees. The Kennedys worked with the Kansas Forest Service in the early 1980s to improve the stand to produce high-quality wood. Black walnut wood is valued for furniture, cabinets, veneer, gunstocks and other specialty items.
As the trees mature, Kennedy continues to trim the lower branches of her black walnut trees and removes trees that are damaged in storms. Because of their diligent work to improve the stand of native timber, the Kennedys also hosted many tours with state and local foresters.
Kennedy estimates that there are about 4,000 black walnut trees on the 91-acre property. She also has a healthy squirrel population.
Copyright 2018 The Lawrence Journal-World. All rights reserved. This material may not be published, broadcast, rewritten or redistributed. We strive to uphold our values for every story published.