Photo Gallery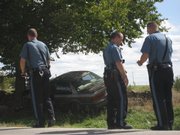 Accident on US Highway 40
Photos from the scene of the accident on US Highway 40 that led to a full search for the suspect by law enforcement officials.
Douglas County sheriff's deputies were assisted Saturday by other law enforcement agencies and a helicopter in a search for a man who fled the scene of a single-car accident near Lecompton.
The crash came after Douglas County sheriff's deputies were sent to investigate a report of a "suspicious" vehicle traveling on U.S. Highway 40.
Douglas County Undersheriff Steve Hornberger said deputies attempted to stop the vehicle about 12:15 p.m. but were unsuccessful.
Hornberger said deputies did not directly pursue the vehicle. He wouldn't explain why the sheriff's department called in a helicopter and deputies with rifles to search for the suspect.
A short time later, in the 100 block of Highway 40, near the Shawnee-Douglas County line, the suspect's vehicle left the road and struck a tree.
The driver of the vehicle fled the scene.
Deputies, assisted by Kansas Highway Patrol troopers, attempted to locate the individual but had not found the suspect Saturday evening. The suspect is described as a heavyset black man wearing a green sweatshirt.
A report was later made that the suspect was spotted along Interstate 70 near mile marker 193 and that he was picked up by a passing vehicle, according to the Kansas Turnpike Authority.
Copyright 2018 The Lawrence Journal-World. All rights reserved. This material may not be published, broadcast, rewritten or redistributed. We strive to uphold our values for every story published.