Photo Gallery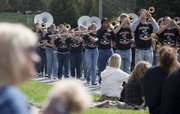 Free State Homecoming 2009
Pictures from Free State High School's homecoming festivities.
Hey, this one was supposed to be close.
Nobody had an inkling Free State High would steamroll Shawnee Mission Northwest in a battle of once-beaten Sunflower League football teams Friday night.
Nobody had a clue the Firebirds would score on their first seven possessions and humble the Cougars, 49-0, at Free State's field.
"You can't determine games off paper," Free State quarterback Camren Torneden said.
No, you determine games on the turf, and the Firebirds — specifically Torneden and running back Kirk Resseguie — owned the chemically concocted grass.
"It was just momentum," Resseguie opined about the unexpected flogging. "We just made one good play after another and took the wind out of their sails."
Resseguie, a 6-foot-2, 190-pound senior, rushed for a career-high 201 yards and three touchdowns. Torneden ran for one score, returned a punt 57 yards for a TD and tossed a 32-yard scoring pass to Chandler Schmidt.
Resseguie's 201 yards rushing and Torneden's 152 accounted for 353 of the Firebirds' 445 rushing yards, and neither one played on offense in the fourth quarter.
SM Northwest coach Aaron Barnett, asked by a reporter what he told his team after the game, said: "You get taken out to the woodshed like that, and there's nothing I could say to make them feel better."
What made the Firebirds' performance even more impressive was that their shortest scoring drive was 75 yards. One march went for 84 yards, another 83 and three others were from 80 yards following touchbacks.
Moreover, the Firebirds never punted and didn't commit a turnover. If it weren't for two penalties that cost FSHS 25 yards, Friday's performance probably could have been classified as perfect.
Not that Free State coach Bob Lisher would ever use that word to describe how his team played.
"There's always room for improvement," Lisher said. "Defensively, we were a little soft, I thought."
Then Lisher paused, smiled and said: "But when you put an 0 on the board, there's not a lot to complain about."
The closest SM Northwest came to scoring was when place-kicker Matt Nowak attempted a 50-yard field goal with the gusty wind in the first half. Nowak had the distance, but was wide left.
The Cougars' closest penetration was the Firebirds' 17, and that was after Free State's lead had grown to 42-0.
All in all, though, this one belonged to the Firebirds' offensive line.
"Our guys really came off the ball well," Lisher said, "and tonight they worked really well together. We were just able to take advantage of things they were doing on defense."
Echoed Resseguie: "I'm so thankful for the line. I've never seen them block like that for me before."
Second the motion, said Torneden. "The holes were big today. Those guys did a great job. All credit to them."
Perhaps not surprisingly, center Michael Lisher deferred the praise to Resseguie for his career night, saying, "Kirk was running really hard. When he breaks tackles like he did, that makes it easy for us."
If the Firebirds (4-1) weren't perfect Friday night, they may have to be next week when they entertain unbeaten Olathe North.
"We haven't peaked yet," coach Lisher said. "We can still get better."
Copyright 2018 The Lawrence Journal-World. All rights reserved. This material may not be published, broadcast, rewritten or redistributed. We strive to uphold our values for every story published.