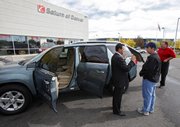 Washington — Charlie Eickmeyer says he was a fan of Saturn vehicles years before he was able to drive. Today he's in shock.
So were employees at Day Automotive Group in Pittsburgh when they read the news online that a deal to rescue Saturn had fallen through. And Mike Martin is left wondering how he can move the Saturns left on his lot or what to do with the employees at his Manassas, Va., dealership.
"It seemed like the deal was going through," said Eickmeyer, 34, who started following Saturn when he was 10 years and runs a Web site for enthusiasts. "I was really excited about the next chapter in Saturn's history."
The chapter was supposed to be a future under former race car driver Roger Penske with the novel approach of filling dealerships with cars made overseas and rebranded as Saturns. Instead, the collapse of talks between GM and Penske Automotive Group Inc. this week likely means the end of the nearly 25-year-old brand, sending Saturn dealers scrambling and leaving the company's loyal owners mourning the apparent demise of a company that built its reputation on customer care.
GM said it will cease making Saturns at plants in Kansas, Mexico and Michigan almost immediately, but will continue to honor warranties after Saturn dealers stop selling cars. Saturn owners can still get their vehicles serviced at GM's remaining dealerships once their Saturn dealer shuts down.
Saturn's future has been in doubt since GM said it planned to phase out the brand by 2011. The mood was grim Thursday at dealerships, where owners said they were blindsided by the news.
"This is nothing short of the bride running away at the altar," said Lou Gonzales, president and owner of the Saturn of Antelope Valley dealership in Palmdale, about 60 miles north of Los Angeles. "The millions of Saturn customers across the United States, I'm sure, are disappointed. But they will not be left out in the lurch."
Copyright 2018 The Associated Press. All rights reserved. This material may not be published, broadcast, rewritten or redistributed. We strive to uphold our values for every story published.