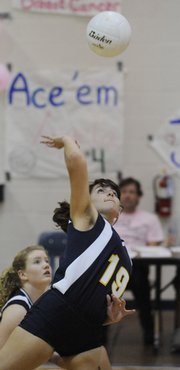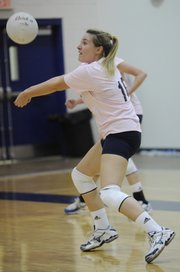 There, in bright pink letters plastered on the west wall of the Seabury Academy gymnasium Thursday night was the definition of courage for all to see.
"Mental or moral strength to venture, persevere and withstand danger, fear and difficulty," the sign read.
Thursday night at its home triangular, the Seabury Academy volleyball team did all that and more but came up on the losing end of two matches, a two-set loss to Christ Prep (27-25 and 25-18) and another two-set setback against Veritas Christian (25-16, 25-19).
Despite suffering a pair of defeats, the Seahawks left the gym with the walk of a winner thanks to the overall purpose of Thursday's meet.
Unofficially, the triangular was known as "Think Pink Night" at Seabury Academy, as all three teams came together to commemorate the first day of National Breast Cancer Awareness Month.
Seabury and Christ Prep both wore pink T-shirts as uniforms to capture the spirit. All three teams sat with pink balloons hovering above their benches and heard a loud and proud crowd roar throughout the evening. It seemed as if everyone in the gym believed that every bump, set and spike the teams recorded represented a direct blow to the dreaded disease that has impacted so many lives.
"We missed the memo on the uniforms," said Veritas coach Kristen Oberzan, whose team won both of its matches in two sets on Thursday night, defeating Christ Prep 25-11, 25-22. "But we were really glad to be a part of this night. They did an awesome job organizing it and it's a great cause."
Most of the credit for that goes to Seabury coach Chrissy Leuty and her inspired squad. In addition to playing their hearts out in both matches, the Seabury players made the signs, decorated the gym and went on individual fundraising missions to raise money for the Side-Out Foundation's "Dig Pink" crusade against breast cancer. All of the money raised, along with the gate and money made from the sale of pink T-shirts will be sent to the foundation.
"The whole night was great," Leuty said. "It definitely meant a lot to the girls and I think it inspired everyone who was here."
For some, like Seabury senior Jamie Fischer, it meant a little more. Fischer's father, Jim, is a breast cancer survivor who's been in remission for about five years. For his daughter, the whole night was about celebrating her father, championing a cause and having a good time doing it.
"A lot of people are surprised when they hear that my dad had breast cancer," Fischer said. "A lot of people don't know that men can get it. But they can. And my dad's a survivor. The whole night hit a little closer to home because of that."
Added fellow-senior Calli Noller: "I'm really happy that we got to do something like this in our home gym. I think the fact that this is for such a great cause motivated everyone to try their hardest tonight."
As for the volleyball portion of the evening, the Seahawks were plagued by the same things that have hindered them all year.
"We're still stuck in the position where, when we get down, we just don't know what to do," Leuty said.
Veritas, meanwhile, spent very little time trailing and looked as if it knew what to do throughout the night. Led by the strong play of Teri Huslig, Sarah McDermott, Shelby Holmes and Shereen Fattaahi, the Eagles demonstrated that they're a team on the rise and a team to be reckoned with as the state tournament draws near.
"We're starting to really merge together as a team," Oberzan said. "We're getting better and more confident with all kinds of different shots and we know when to swing away and when not to."
The next challenge for the Eagles will likely be their toughest. This weekend, they'll compete at Lawrence High's Joan Wells Invitational, marking the first time in school history that the Veritas volleyball team has played in a Class 6A tournament.
"I'm pumped and I'm nervous and I'm excited," Huslig said. "I know that if we work hard, play as a team and don't let any balls hit the floor, we can compete."
According to Oberzan, that's precisely the goal.
"It's going to be a wake-up call," she said. "But I expect the girls to represent well. We're excited about the opportunity to see balls coming faster at us. That's what we need to get ready for state."
Copyright 2018 The Lawrence Journal-World. All rights reserved. This material may not be published, broadcast, rewritten or redistributed. We strive to uphold our values for every story published.