On the street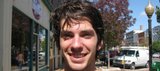 The apricot matrimonials at The Merc.
Eateries new and old are stirring up activity in the 700 block of Massachusetts Street in downtown Lawrence, while interest in other sites continues to simmer.
A new bakery and a new restaurant are set to join the upcoming arrival of Noodles & Company and ongoing adjustments to Buffalo Bob's Smokehouse along the west side of the block.
Michele Kaminski, who spent 27 years working in corporate marketing, figures the time is right to make the big leap with her passion for baked goods: Pink Box Bakeshop, in the former home of Southwest and More, 727 Mass.
Her bakery will open at 8:30 a.m. Saturday featuring 30 of her 75 different baked products, including rugelach ("little turnover cookies"), lemon blueberry pound cake and butter lemon cookies.
She aims to add to the excellent food offerings already available downtown.
"There is no place that makes cupcakes and pies and cookies," said Kaminski, who's built a following by selling her baked goods for the past two years at the Lawrence Farmers' Market. "I just said, 'I'm going to try it.' "
Kaminski plans to have her place open from 8:30 a.m. to 7:30 p.m. Tuesdays through Saturdays, and from 8 a.m. to 4 p.m. Sundays. Future offerings will include "afternoon tea," she said, complete with finger sandwiches, scones and other traditional fare.
The shop is decked out with pink walls and 1960s decor, with a few tables for seating and plenty of her signature food boxes — yes, all pink — that have become commonplace at the farmers' market.
Also in the block:
• 715, described as a "new European-style neighborhood eatery," is expected to open within three weeks at 715 Mass., with Michael Beard as executive chef. He plans to serve "simple, fresh, handmade food fit for foodies at a price that's affordable for all." It is scheduled to be open from 7:15 a.m. to midnight daily, offering a café menu in the morning, late afternoon and late night, with a full-service lunch and dinner menu.
• Work continues on the exterior of Buffalo Bob's Smokehouse, now that Bob Schumm's Dynamite Saloon is open next door, at 721 Mass.
• Work continues on Noodles & Company, inside the former home of The Palace at the corner of Eighth and Massachusetts streets.
Copyright 2018 The Lawrence Journal-World. All rights reserved. This material may not be published, broadcast, rewritten or redistributed. We strive to uphold our values for every story published.