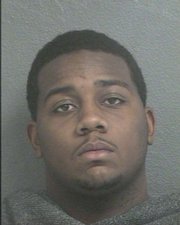 A judge sentenced a man to probation for robbing four Kansas University students at gunpoint in January as they were waiting for food in a Burger King drive-through lane, prosecutors confirmed Friday.
Douglas County District Judge Robert Fairchild ordered Nicholas White, of Kansas City, Kan., to a three-year probation term for the crime, according to court records. Prosecutors had asked that the man be sentenced to prison.
Prosecutors said White demanded cash at gunpoint from the students in the early morning hours of Jan. 25, outside the Burger King near Sixth and Missouri streets. White pleaded guilty to two counts of robbery in August.
In April, Fairchild sentenced Antoine Barber, an accomplice from Bonner Springs, to probation for his role in the robbery. Barber pleaded guilty to two counts of attempted robbery.
Copyright 2018 The Lawrence Journal-World. All rights reserved. This material may not be published, broadcast, rewritten or redistributed. We strive to uphold our values for every story published.