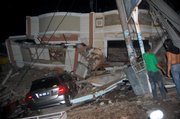 Padang, Indonesia — A powerful earthquake that struck western Indonesia trapped thousands of people under collapsed buildings — including hospitals, a hotel and a classroom, officials said. At least 200 bodies were found in one coastal city, and the toll was expected to be far higher.
The temblor Wednesday started fires, severed roads and cut off power and communications to Padang, a coastal city of 900,000 on Sumatra island. Thousands fled in panic, fearing a tsunami.
The undersea quake of 7.6 magnitude was followed by a powerful, shallow inland earthquake this morning with a preliminary magnitude of 6.8, the U.S. Geological Survey said. It hit about 150 miles south of Padang at a depth of just under 20 miles.
Shallow, inland earthquakes generally are more destructive, but there were no immediate reports of damage or injures.
On Wednesday, buildings had swayed hundreds of miles away in neighboring Malaysia and Singapore.
In Padang, the capital of West Sumatra province, the shaking was so intense that people crouched or sat on the street to avoid falling. Children screamed as an exodus of thousands tried to get away from the coast in cars and motorbikes, honking horns.
At least 500 buildings in Padang collapsed or were badly damaged, said Disaster Management Agency spokesman Priyadi Kardono, adding that 200 bodies had been pulled from the rubble there. The extent of damage in surrounding areas was still unclear because of poor communications, he said.
Padang's mayor appealed for assistance on Indonesian radio station el-Shinta.
"We are overwhelmed with victims and ... lack of clean water, electricity and telecommunications," Mayor Fauzi Bahar said. "We really need help. We call on people to come to Padang to evacuate bodies and help the injured."
Hundreds of people were trapped under collapsed buildings in Padang alone, including a four-star hotel, he said. Other collapsed or seriously damaged buildings included hospitals, mosques, a school and a mall.
Thousands were believed trapped throughout the province, said Rustam Pakaya, head of the Health Ministry's crisis center.
"This is a high-scale disaster," Health Minister Siti Fadilah Supari told Metro TV.
Indonesian broadcaster TVOne showed footage of heavy equipment breaking through layers of a flattened 3-story cement building, where dozens of children had been taking classes. It said more than 30 children were missing and feared dead, but gave no source for the information.
Wednesday's quake struck just off the coast of Padang, the U.S. Geological Survey reported. It occurred a day after a killer tsunami hit islands in the South Pacific and was along the same fault line that spawned the 2004 Asian tsunami that killed 230,000 people in a dozen nations.
A tsunami warning was issued Wednesday for countries along the Indian Ocean, but was lifted after about an hour; there were no reports of giant waves.
Copyright 2018 The Associated Press. All rights reserved. This material may not be published, broadcast, rewritten or redistributed. We strive to uphold our values for every story published.