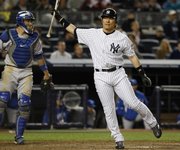 New York — Joba Chamberlain walked off the mound in the fourth inning, his head down. After another shaky start, his spot on the New York Yankees' playoff roster could be in jeopardy.
Chamberlain lasted just 32⁄3 innings and was booed by fans at Yankee Stadium during the Kansas City Royals' 4-3 victory Wednesday night, which stopped New York's seven-game winning streak.
"I understand what I've done and the situation I've put myself in," the slumping pitcher said.
Derek Jeter homered leading off the first, and Chamberlain left with a 3-1 deficit before Nick Swisher's 29th homer tied the score in the fifth, a two-run drive off Robinson Tejeda. But the Yankees ended the first regular season at their new $1.5 billion ballpark the same way they began — with a loss.
Chamberlain allowed three runs, seven hits and four walks, throwing just 52 of 91 pitches for strikes and going to three-ball counts on six of 22 batters.
He gave up a run-scoring single to Brayan Pena in the first, a bad-hop RBI single to Mark Teahen in the third and another run-scoring single to Pena that finished his night in the fourth. It could have been worse: The Royals loaded the bases with one out in the second before Tug Hulett popped out and Billy Butler flied out.
"It was not a good start," Yankees manager Joe Girardi said.
In his first full season as a major league starter, Chamberlain wound up 9-6 with a 4.78 ERA in 31 outings, throwing 1561⁄3 innings as the Yankees limited his pitches in the final two months. But he finished poorly, going 1-4 with a 7.75 ERA in his final 10 starts, giving up 56 hits in 40 2-3 innings.
Copyright 2018 The Associated Press. All rights reserved. This material may not be published, broadcast, rewritten or redistributed. We strive to uphold our values for every story published.