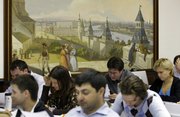 Moscow — A handful of top Russian business figures have created an MBA program that tackles the issues they faced themselves: bribery, relentless bureaucracy, imperfect laws.
Supporters of the Moscow School of Management Skolkovo say it will get students ready for the unpredictable, sometimes corrupt world of emerging market economies.
"We'd like to change the whole model," says Dean Wilfried Vanhonacker. "It doesn't make sense for us, nor are we interested in competing with Harvard. That's a business school of the past, I have to say. But a business school of the future has to be different."
With construction not quite finished on its $250 million glass-and-steel campus, the school launched its full-time, 16-month master of business administration degree program, with classes temporarily in the five-star Baltschug Kempinski hotel near the Kremlin.
Vanhonacker, the former director of the Ph.D. program at France's prestigious INSEAD business school, said developing economies hold out the biggest opportunities. But business schools don't prepare students to work in them.
Skolkovo includes classroom courses in management theory, but invites dozens of guest speakers.
And part of their training consists of working in real companies solving real-world problems.
Fees for a full-time MBA including accommodation, flights to India, China and the U.S. come to $74,000, comparable to prices at leading business schools globally.
Copyright 2018 The Associated Press. All rights reserved. This material may not be published, broadcast, rewritten or redistributed. We strive to uphold our values for every story published.