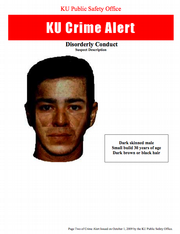 Kansas University police issued a crime bulletin Thursday, after a man tried to lure a woman into his car near Memorial Stadium.
Police said the incident occurred about 7:20 a.m. in the area of 11th and Mississippi.
The woman was jogging in the area, when the driver of a white vehicle stopped and told her to get in, police said, but the victim refused. The suspect left after a pedestrian in the area stopped to help the woman.
Officers released a sketch of the suspect, who is described as a dark-skinned man, about 30 years old, with dark brown or black hair. Anyone with information about the crime should call the KU Public Safety Office at 864-5900 or KU Crimestoppers at 864-8888.
Police are encouraging students to be aware of their surroundings and to walk or jog in groups.
Copyright 2017 The Lawrence Journal-World. All rights reserved. This material may not be published, broadcast, rewritten or redistributed. We strive to uphold our values for every story published.