Fashion models have often been criticized of perpetuating negative body images.
The most emaciated models have drawn comparisons to walking cadavers, and they've been accused of promoting eating disorders.
Past Event
with Weird Wounds and Fortuning inside after the show
When: Saturday, October 3, 2009, 8 p.m. to 11 p.m.
Where: The Replay Lounge, 946 Mass., Lawrence
Cost: $3
-->
-->
The models at the upcoming Fashion Monster show will actually take those charges as compliments. The show is tailor-made for walking cadavers who gleefully engage in that most severe of eating disorders — a steady diet of human brains.
Lawrence's premiere catwalk party, featuring local designers and clothiers, is sort of like "Project Runway" minus snippy judges and with more corpses (with arguably more personality than Heidi Klum).
More than a dozen designers and stores will show off their lines with all of the proceeds benefiting the Lawrence Interdenominational Nutrition Kitchen (LINK), which provides meals to the needy. This will be the third year the show has strut its stuff at the Replay Lounge, and this time around organizers decided to completely embrace its October roots, subtitling the show "Adorn of the Dead" and going full zombie.
"We wanted to keep the tradition of focusing on Halloween for our fall fashion show, but make it more specific," co-organizer and designer Tricia Rock says of the glam ghoul theme. "We wanted to unify all of the designers for a more cohesive feel, but the designs don't have to be zombie-themed — just the models."
Audio Slideshow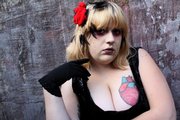 Fashion Monsters 3
Judging by the response, it was an idea whose time was ripe, like that of a juicy frontal lobe.
"I love the zombie theme," says model Victoria Ashley Partridge, who will be wearing a piece by Lawrence designer Katy Seibel and gobs of death pallor makeup. "That was the kicker. When Katy told me it was going to be zombie-themed, I said I was definitely interested. The more gore I wear, the better. They can put wounds on me. I'm kind of hoping they'll give me a severed appendage as a prop, or maybe a bloody stuffed animal I can drag on a leash. Yeah, I like zombies."
Some of the designers, however, are going to show a little bit more restraint when it comes to the artificial arterial spray.
"No fake blood on my models," says Kansas City designer Halliday Bertram with a shudder. "Fake blood is a terror to get out of clothes. I'll probably just do some open wounds with no fluids. Kind of like the zombies that just came out of the ground and are a little decomposed."
In fact, Fashion Monster encourages undead diversity, Rock says.
"We're not specifying what sort of zombie you need to be — you can be a bloody zombie or a walking dead zombie," she says. "There will be all sorts of zombies, no discrimination,"
Heck, you don't even technically have to be a zombie.
"It might be a little conceptual, and I hate using that word," Lawrence designer Mary Bellamy says. "But I'm basing my zombie look after Captain Howdy, who was the demon from 'The Exorcist.' The models will have gray faces with really dark eyes."
The rotting core, though, is the classic zombie.
"I love zombie movies," Bertram says. "It's a horror genre that has a sense of humor and people can have fun with, so it lends itself to a show like Fashion Monster. And, really, zombies can wear anything because anyone can be a zombie."
Not all of the designers involved are such zombie aficionados. Rock admits that she'd never seen a zombie flick — she was too scared.
"To get ready for the show, I watched the 'Dawn of the Dead' remake the other day. I almost died I was so scared," she says. "I might even get scared at the show. It could give me nightmares."
A real life nightmare awaiting the designers and models of Fashion Monster is the treacherous runway itself. Well, "runway" may be a bit generous — the models will be walking on two picnic tables lashed together on the patio of the Replay.
"We're going to make the picnic tables easier to walk on this year so we don't have any zombie falls," Rock says. "There were a couple of slips the first year at the Replay, but that was mostly because there was paint being thrown around. I don't know how blood-slick the runway will be this year, though."
Creativity won't be limited to the cast and crew.
"We're encouraging all members of the audience to dress up as zombies, as well," Rock adds. "We're hoping to have a makeup artist who will help audience members get zombified."
Come Saturday, some of the designers themselves may be indistinguishable from zombie models.
"I'm a really big procrastinator, so it's always kind of stressful," Bellamy says of preparing for a runway show. "It's a lot of hunching over my sewing machine until my back hurts and being up really late. In fact, I turn into a bit of a hunchbacked zombie by the end of the process. But it's still fun. I wouldn't do it if it wasn't fun."
Bertram adds: "When I first started in fashion, I'd only get five hours of sleep the entire week before a runway show. My whole diet was beer and the occasional snack. My stress was horrible. I've since learned to just have fun."
If your idea of fun is zombie couture, live music, and zombie themed art happenings — including zombie puppets and zombified caricatures — then you're going to find Fashion Monster a veritable carnival.
"Since it can get so packed in there, it provides a fun and energetic atmosphere. People get really excited and are crawling all over themselves to see what's happening," Rock says.
"We're trying to meld groups in Lawrence that are doing successful artistic things on their own and pull them all together. When you get smaller and more local, where everybody's packed into a venue like the Replay, you get more creativity, with dancing and performances."
Copyright 2018 The Lawrence Journal-World. All rights reserved. This material may not be published, broadcast, rewritten or redistributed. We strive to uphold our values for every story published.