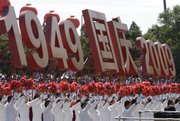 Beijing — China celebrated its rise to a world power over 60 years of Communist rule Thursday, staging its biggest-ever parade of military hardware with more than a hundred thousand marching masses in a display that stirred patriotism — and some unease.
Police blocked off a wide area around central Beijing's Tiananmen Square for the 60th anniversary of the People's Republic. City residents were told to stay away and watch the events on television.
President Hu Jintao, dressed in a gray Mao tunic instead of the business suit he usually wears, reviewed the thousands of troops and hundreds of tanks and other weaponry, shouting "Hello, comrades" while riding in an open-top, domestically made Red Flag limousine.
During the two-hour-plus festivities, dozens of Chinese-made fighter jets were to stage a fly-over.
Afterward, 60 floats celebrating last year's Beijing Olympics, China's manned space program and other symbols of progress rolled by as tens of thousands of students flipped colored cards in unison to make pictures.
The events were meant to underscore what the leadership calls the "revival of the great Chinese nation."
We "have triumphed over all sorts of difficulties and setbacks and risks to gain the great achievements evident to the world," Hu later said standing atop Tiananmen gate in a speech that referred to his Communist Party predecessors and China's success. "Today, a socialist China geared toward modernization, the world and the future towers majestically in the East."
The feel-good, if heavily scripted moment tapped into Chinese pride surrounding the country's turnaround from the war-battered, impoverished state the Communists took over in 1949 to the dynamic, third-largest world economy of today.
"I think all 1.3 billion (Chinese) people are happy about this because of our standard of living," said 53-year-old Xu Deqing, walking in an alley a few blocks off the parade route. "When you compare with 30 years ago ... back then people's stomachs were empty. Now we have really made it to a higher level."
The buoyant mood glosses over the country's gut-wrenching twists — the ruinous campaigns of revolutionary leader Mao Zedong that left tens of millions dead — as well as its current challenges: a widening gap between rich and poor, rampant corruption, severe pollution and ethnic uprisings in the western areas of Tibet and Xinjiang.
Security in Beijing has been intensifying for weeks over worries that protests, which are common in China, or an overexuberant crowd might mar the ceremonies. Parts of central Beijing were sealed off and businesses were told to shut down beginning Tuesday. Flights in and out of Beijing's international airport were suspended this morning. An intensive cloud-seeding operation cleared away the smog that had shrouded Beijing for two days.
Copyright 2018 The Associated Press. All rights reserved. This material may not be published, broadcast, rewritten or redistributed. We strive to uphold our values for every story published.