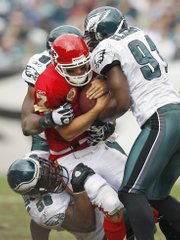 Kansas City, Mo. — Kansas City's 2-for-28 losing binge is likely to become 2-for-29 Sunday when the New York Giants tack another painful week onto the sorriest chapter in the history of the Chiefs.
The unbeaten Giants are 81⁄2-point road favorites over the winless Chiefs, who are coming off a 34-14 loss to the injury-weakened Philadelphia Eagles.
The new regime of general manager Scott Pioli and Todd Haley keeps baling water, shuffling players in and out as fast as they can. As of Wednesday afternoon, there had been seven player transactions in a 24-hour span.
Still, the franchise that won 100 games under Marty Schottenheimer in the 1990s is 0-3 for the second straight year and appears headed for a third consecutive calamity of a season.
Each of the three seasons has come with its own identity, its own reason for what caused the crash.
The Chiefs began headed toward this low point in 2007 when the decision was made, against the wishes of head coach Herm Edwards, to try to coax a second playoff run out of an aging team.
Big mistake.
Aging very quickly became aged. The Chiefs sank to 4-12, their worst season percentage-wise since 1977.
The following year, Edwards got permission from general manager Carl Peterson and owner Clark Hunt to root out the old and bring in the new. It was what he and Tony Dungy had done in Tampa Bay, Edwards argued, a rebuilding program based on patience and youth, a bite-the-bullet enterprise that accepted present-day losses because they would inevitably lead to future wins.
Big mistake.
Nothing went right, starting with season-ending injuries in the first few weeks to quarterbacks No. 1 and 2. By the time fall turned to winter, Hunt's patience had run out. He hadn't figured on 2-14, the worst season since his father founded the team almost 50 years before. Peterson was fired and replaced by Pioli, who let Edwards sit and stew for several weeks before asking him to clean out his desk and make way for the Haley, the man whose offense had helped take Arizona to the Super Bowl.
Now, as they close out the first quarter of the season, the Chiefs seem to echo something Hunt said the night Peterson resigned:
"The franchises that struggle to be winners on a consistent basis and get trapped into losing are ones that are reactionary and ones who will pursue a certain direction for two or three years, and because they haven't had the success they would like, change and go in a different direction."
Pioli and Haley are confronted by talent issues almost everywhere. The offensive line, where continuity is paramount, has been as unsettled as any position group on the entire team with the possible exception of wide receiver. The best player in that group, Dwayne Bowe, may be out for a second straight week.
Many of the players Edwards drafted the past two years as his foundation have been cast off by a new management team that is so bent on changing the team's culture they don't even like to use the word "culture."
There is no reason to think Hunt will not give Pioli and Haley time to get things in order. And there's no reason to think they will not eventually turn the Chiefs into big winners.
Haley insists he walked into this job with eyes wide open.
"There's a reason why Scott Pioli got the job he got and a reason why I did," he said. "Generally, that means things aren't in a good state. I had the understanding that it was going to be a big job."
Copyright 2018 The Associated Press. All rights reserved. This material may not be published, broadcast, rewritten or redistributed. We strive to uphold our values for every story published.