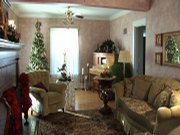 "Decking the halls" is a literal phrase at a northwest Lawrence home featured on this year's Holiday Homes Tour, sponsored by Health Care Access. The two-story, 91-year-old house belonging to Marilyn and Curt Hall features hosts of angels, festive Santas and a Christmas tree in every room.
"I've always liked combining the old with the new," says Marilyn Hall in describing both her home and holiday decorating styles.
The living room features a rare player piano and a massive cherry wood fireplace adorned with greenery, ribbon and angels that coordinates with the corner Christmas tree.
A formally set table in the dining room displays china, crystal and an abundance of candlelight. Nearby, an antique secretary that belonged to Marilyn Hall's grandfather houses her collection of table linens.
Grandchildren will soon be gathering in the kitchen where gingerbread house construction is in progress, and glass jars of every imaginable shape and size are filled with cranberries, popcorn, nuts and colorful holiday candies.
A charming side porch combines red-bowed vintage sleds, a holiday-adorned antique window frame suspended from the ceiling and creatively hung votives at the windows.
Attic space has recently been converted into a multifunctional third level that serves as a family room and guest quarters and features a collection of Saint Nicks.
"Home and Away" premieres at 6:30 p.m. Mondays on Sunflower Broadband Channel 6 and replays throughout the week.
Copyright 2018 The Lawrence Journal-World. All rights reserved. This material may not be published, broadcast, rewritten or redistributed. We strive to uphold our values for every story published.