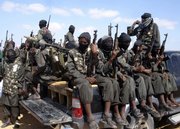 Mogadishu, Somalia — The recruits gather in scorching desert hideouts in Somalia, use portraits of President Barack Obama for target practice, learn how to make and detonate bombs, and vow allegiance to Osama bin Laden.
Training camps in the lawless nation of Somalia are attracting hundreds of foreigners, including Americans, and Somalis recruited by a local insurgent group linked to al-Qaida, according to local and U.S. officials. American officials and private analysts say the camps pose a security threat far beyond the borders of Somalia, including to the U.S. homeland.
In interviews with The Associated Press, former trainees gave rare details on the camps, which are scattered along desert footpaths, rutted roads and steamy coastal dens. They say the recruits are told the United States is the enemy of Islam.
U.S. and Somali officials say Somalia's al-Shabab jihadist, or holy war, movement is growing, and uses foreign trainers with battlefield experience from other conflicts.
Court documents
The threat posed by the training camps was underscored in federal court documents unsealed Nov. 23 in Minneapolis, home to a large Somali-American community. An indictment against several Somali-Americans who allegedly fought in Somalia said trainees at one camp included dozens of ethnic Somalis from Somalia and other African countries, Europe and the United States.
"The trainees were trained by, among others, Somali, Arab and Western instructors in … small arms, machine guns, rocket-propelled grenades, and military-style tactics," said an affidavit from FBI Special Agent Michael N. Cannizzaro Jr. that was unsealed with the indictment.
Former al-Shabab fighter Hassan Yare, who works in Somalia's capital, Mogadishu, said life in the camps is austere. Recruits sleep on plastic sheets and sometimes eat only one meal a day — often maize cooked with water. Phones are confiscated. Recruits are only allowed to speak to their parents once every other Friday — Islam's holy day.
"The message is simple," Dahir Muhiyadiin, 18, said three months after finishing his training at a camp run by Somalia's main insurgent group. "We are taught how the Western infidels want to eradicate pure Muslims, about how the U.S. government does nothing as Israel harasses our Muslim Palestinians."
Al-Shabab — "the youth" in Arabic — controls much of the desert nation's southern region and holds large parts of Mogadishu. It wants to overthrow the government and install a strict form of Islam. Analysts say the group has between 2,000 and 3,000 fighters.
Among al-Shabab's ranks are an estimated 200 to 400 foreigners from Pakistan, Chechnya, Sudan, Kenya, Tanzania and other countries — many of them veterans of fighting in Afghanistan and Pakistan, said Mark Schroeder, an Africa analyst at the global intelligence firm Stratfor.
The next Afghanistan?
The proliferation of jihadist training camps raises concerns that Somalia will become the next Afghanistan — a sanctuary for al-Qaida-linked groups to train and plan attacks. The Somali government seems powerless to do anything about it.
"The threat posed by al-Shabab is something that we pay very, very close attention to," Vice Adm. Robert T. Moeller, the deputy commander for the U.S. military's Africa Command, told the AP at the command's headquarters in Stuttgart, Germany.
The government is backed by 5,000 African Union peacekeepers but controls only a few blocks in Mogadishu. The insurgents are so confident that they stage executions of suspected spies there.
Jihadists linked to al-Shabab can also roam through neighboring countries without attracting much attention and already cross boldly into northern Kenya.
U.S. officials are concerned Somali-Americans who fought with al-Shabab will return to the United States and carry out attacks. As many as 20 from Minnesota have been lured to their ancestral homeland to join the jihad. At least one blew himself up in a suicide attack in Somalia.
One of the documents unsealed in Minneapolis gave details on that attack. It said Shirwa Ahmed, a naturalized U.S. citizen and Minneapolis resident, took part in a truck-bombing in Bossaso, Somalia, on Oct. 29, 2008, against offices of a regional intelligence service. Ahmed, who was alone in the truck, was identified through a fingerprint obtained from a finger found at the bomb site.
A Somali-American from Seattle is suspected of also having taken part in a suicide attack against an AU peacekeeper base on Sept. 17. U.S. authorities said they are awaiting DNA test results to confirm it.
Copyright 2018 The Associated Press. All rights reserved. This material may not be published, broadcast, rewritten or redistributed. We strive to uphold our values for every story published.