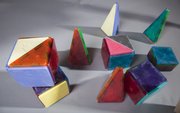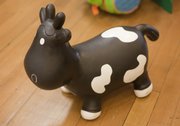 When buying toys for her daughter, Hannah, 2, Lawrence mom Sarah Todd has just a few criteria.
"We try to make the toy somewhat educational or something that encourages imaginary play," says Todd, a former teacher and now a stay-at-home mom. "And then I would also say that we try to make sure that they are somewhat safe, just with all the chemicals that are in the plastic toys and everything. We really like some of the wooden toys ... but it is kind of hard."
There are literally thousands of toys in stores and on the Internet — colorful ones, green ones, educational ones, old-fashioned ones and on and on. Which ones are intelligent choices for you, your kid and your play-value-for-your-buck?
What's smart depends on what you want, but Margaret Warner, "senior toyologist" at The Toy Store, 936 Mass., says that what many of these toys have in common is that they are "open-ended" — meaning that their play quotient isn't finite.
"Open-ended meaning, this toy is gong to be a five-tower box or house or whatever, and tomorrow it might be a robot," Warner says, pointing to a table where a child is using Magna-Tiles by Valtech! Co. to build a skyscraper. "I mean, he'd going to design a lot of things through the years that change, rather than giving him one thing that is one thing."
Lleanna McReynolds, director of Raintree Montessori School, 4601 Clinton Parkway, also uses the buzz-word "open-ended" when describing toys that enter her school for the children who stay after normal school hours.
"Those toys, we try to make sure are open-ended, made of wood or materials that are long-lasting and that they're well-made. The more beautiful the material, the more a child wants to take care of them," McReynolds says. "And a lot of toys that have indirect preparations, for example, if we were going to put a puzzle into a classroom, we'd want to make sure that that puzzle has little knobs on it so that the child learns to strengthen the pincer grasp for holding a pencil later on."
Anna Jenny, executive director of the Douglas County Child Development Association, says that any toy that encourages creativity is attractive.
"They must provide an opportunity for social interaction, the use of your imagination and creativity," Jenny says of ideal toys. "Play in and of itself is a learning activity and an opportunity for your brain to experience the world in a more unstructured and intuitive way so that you can build skills that make it easier for your brain to learn cognitive things, formal things."
Meanwhile Karin Barrett, a sales associate at Blue Dandelion, 841 Mass., says that in addition to being open-ended, many of her favorites are clever — either in design, construction, usage or all three. She gives the example of Mobi's TykeLight Portable GloMate as something that is a useful nursery object as well as a toy and a soother — all in one.
"The GloMate has been really popular, and I think it's just because it's so versatile," Barrett says. "You can have it as a regular bedside comfort light ... and for toddlers the little arms are small enough for them to manipulate and carry around."
But of course, the toys that are store-bought aren't the only toys around, says Gayle Anderson, coordinator of the Lawrence Parents as Teachers program. On her home visits, Anderson likes to stress that anything lying around the house can become a great learning toy.
"We sure do think that everything a child has to learn and grow is right in the home," Anderson says. "We show parents different alternatives to what they already have in the home . How you can make a paper towel tube a kick toy for an infant. How you can make an oatmeal box a rolling book."
And if you do have a little money to spend, she does have one cheap toy suggestions: a ball. Despite its plain-jane reputation, the ball might just be one of the smartest, most versatile toys around, says Anderson.
"We think a ball is one of the best cause-and-effect toys you can ever own, because you learn how to lift your foot up and kick with gross motor development," Anderson says. "You don't have to have much."
Todd says that this Christmas, she's planning on choosing quality over quantity for Hannah — investing in nicely made items that will last through the toddler years and be around for another kiddo later on. Though it might be hard for Hannah to let go of her current favorite — a handled shopping bag — long enough to play with a new toy.
"The paper bags with the little handles, that's been one of her favorite things," Todd says. "She just loads it up with her toys and carries it around — the paper bag is the most exciting thing at the moment for a while."
Copyright 2018 The Lawrence Journal-World. All rights reserved. This material may not be published, broadcast, rewritten or redistributed. We strive to uphold our values for every story published.