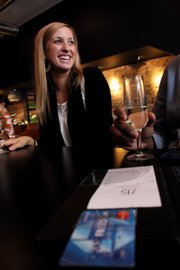 On the street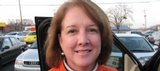 Yes, there is a restaurant downtown that I felt rushed out of because they needed the seats.
We've all been there before — after finishing a meal out, you and your party are feeling full and convivial. You'd like to stay at the restaurant, soak up the atmosphere and conversation, and maybe polish off another drink or two. But before you can settle in for another hilarious anecdote about that one time so-and-so did that one thing in that one place, the server drops the check like a mood-busting hydrogen bomb.
All of the sudden, panic grips the table. The afterglow of dinner has been replaced with a raging fire of doubt and paranoia. Flop sweat begins to trickle. Should you leave? Do you risk offending the establishment if you linger? How are you going to split the bill? Did the server look mad? What should you leave for tip? What do you do? WHAT DO YOU DO?!?!?
OK, it's never really that cataclysmic unless you live in an episode of "Curb Your Enthusiasm," but there are certain unalienable dos and don'ts to check dropping.
"I was a waiter for 20 years, so I've been on both sides of check dropping," says Charles Ferruzza, the restaurant critic for The Pitch, whose job it is to toast or flambé dining culture in Kansas City and Lawrence. "If a server drops the check just to clear the table, it's never good form. If you're a waiter, you're just going to piss your patrons off. That's something you learn pretty early in the game. There's a tasteful way to do it.
"There's an art to dropping the check that most young waiters don't get. I always give low points, and a lower tip, to servers who drop a check."
As the new culinary kid on the block in downtown Lawrence, these are warnings that restaurant 715 takes quite seriously. "Be as neutral and classy as possible," advises Margie Hogue, head server at 715. "Keep the check down, in case the guest doesn't want the other guest to see how much it was. You also want them to feel like they can stay as long as they like but also to process their payment as fast as you can. Make sure they leave happy and don't feel rushed."
Put less delicately by Ferruzza, "Check dropping is really a hash house attitude. At Denny's, they don't give a rat's (expletive) about if you want coffee or dessert."
"In my stupid youth when I first started working in restaurants, there were times when I really tried to ease tables out," says Ferruzza. "I learned it wasn't worth it. They would leave a dollar instead of 10, and the next table that sat there wasn't any more appreciative. You just kind of go with the flow."
Hogue tries to avoid a bad tip by picking up on her customers' cues.
"There are some obvious clues as to if they want their check and are ready to leave. If they start making that hand gesture of writing in the air, that's a good sign," says Hogue. "If they're going to hang out for a while, I keep my eye on them in case they want anything else, but I don't want to bother them if they're deep in conversation. It's just kind of a game — you also don't want to leave them stranded if they're ready to go. You just have to be aware at all times."
The converse of dropping a check too soon, however, is the paranormal phenomenon of phantom servers — it's as though they simply evaporated, taking your bill with them as you languish in purgatory.
Michael Wade Smith, a junior at Kansas University who was enjoying a glass of bubbly at 715, shared just such a ghost story: "I was with a friend at a restaurant recently, drinking and talking after dinner, and it came to that time when we clearly were ready to leave. But they would not come by and give us our check. No one was coming to our table. We were sitting there awkwardly trying to get eye contact, but no one was paying any attention."
Desperate times called for desperate measures. "We ended up with that plan of, 'Well, I'm going to the restroom, and on the way I'll stop and tell them we need our check,'" Smith says.
"I was at a restaurant in Kansas City — now mercifully closed — and this waitress we had just vanished out of thin air," says Ferruzza of another such spectral incident. "We want our check and we want to leave, but she's nowhere to be found. Suddenly a clumsy busboy knocks over a screen at the waiting station and our waitress is standing there eating out of one of the bus tubs. It was repulsive no matter which way you cut it."
Wild gesticulations are, in such instances, fair game. "Recently I was at a restaurant and I couldn't figure out which waitress was ours," says KU junior Anne Miller, also enjoying some champagne at 715. "A couple of them started arguing over us. They never brought us our checks and my mom started waving her hands — literally had her hands in the air. She's Russian, so she's extreme. We didn't give them a tip."
To avoid either extreme in check dropping — too soon or never — requires a little bit of marriage counseling.
"Establishing a rapport, dialogue and communication are really important between server and customer," Ferruzza says. "I mean, I'm not talking about sharing each others' life stories — because no one wants that — but if you get a vibe of what's going on and they say they've got a 2-year-old they need to pick up at 7:30, whatever the game is, you can kind of coordinate both of your schedules and make it work out."
One thing most foodies can agree on, in the end, is that you shouldn't chase diners with household appliances.
"One restaurant that I know of likes to start vacuuming as soon as their brunch is over, even if people are still eating. That's a pretty clear sign," Hogue says. "We try not to do that here."
Copyright 2018 The Lawrence Journal-World. All rights reserved. This material may not be published, broadcast, rewritten or redistributed. We strive to uphold our values for every story published.