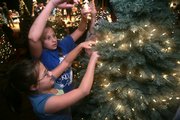 Past Event
Benefit for the Shelter Inc.
When: Monday, November 30, 2009, 10 a.m. to 8:30 p.m.
Where: Liberty Hall Cinema, 644 Massachussets Street, Lawrence
-->
-->
Christmas starts around July for the folks at Treanor Architects.
That's when they start working on their entry for the annual Festival of Trees, a benefit for The Shelter Inc.
The tree display begins Monday, with an auction scheduled for 8 p.m. Tuesday.
"Many people don't think of architects as artists, but we are," says April Trojniak, an associate at Treanor Architects and organizer of the company's Festival of Trees entry. "We're not using the typical fir Christmas tree but will instead hang our paintings on the limbs of a barren tree. People can buy the entire tree or individual paintings."
Treanor Architects is one of many Lawrence businesses that have created a Festival of Trees project for a number of years, says Judy Culley, executive director of The Shelter Inc.
This year's event, its 23rd annual, will feature more than 50 trees and five to 10 wreaths decorates by area companies, organizations and individuals.
"There is always a huge variety of trees each year, and the themes are far-ranging from designer-created and very elegant to more playful and fun," Culley says. "That's part of the fun of the event, to see what people can come up with that's new and creative."
And it's not just a fundraiser, with parties scheduled for Tuesday night before the auction.
"Festival of Trees is a Christmas party as well as an auction," Culley says. "It's a very nice way to kick off the Christmas season in Lawrence."
It is also a way to support The Shelter Inc., which serves approximately 1,600 area children and families each year. The funds from Festival of Trees are used to create new programs and to fill temporary gaps. Recently, The Shelter Inc. used funds from this event to build and open a second shelter facility.
"The funds raised from this event are very important and allows us the flexibility to do what we need to do to continue to serve the children and their families who benefit from our programs," Culley says.
Those programs include placement and prevention services, maintaining two shelter facilities for children who need a temporary place to stay and working with the foster care program to get homes licensed and get children placed in those homes. The child welfare agency also works with law enforcement on all juvenile cases and offers a High School Truancy and Diversion Program designed to help high school kids complete their education.
The Festival of Trees has become a Christmas tradition in Lawrence.
"It's a wonderful event in so many ways," Culley says. "It's a special time for children, for those who like to look at Christmas trees and for those creating the trees."
It's certainly a special time for Trojniak.
"I love it not only because Christmas is my favorite time of year," she says, "but because it's for such a good cause."
Copyright 2018 The Lawrence Journal-World. All rights reserved. This material may not be published, broadcast, rewritten or redistributed. We strive to uphold our values for every story published.