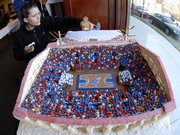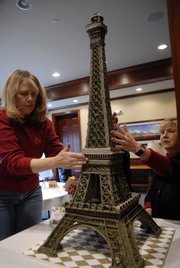 Past Event
When: Friday, December 4, 2009, 10 a.m. to 6 p.m.
Where: Eldridge Extended, 201 W. Eighth St., Lawrence
Cost: $3
-->
-->
Local artists once again will have a chance to show off their skill at making edible holiday edifices at the annual Eldridge Hotel Gingerbread Festival and Auction in early December.
The gingerbread houses will be set up in the Eldridge Extended, 201 E. Eighth St., starting Friday. The auction is scheduled for Dec. 8, with all proceeds going to Big Brothers Big Sisters of Douglas County.
Becky Price, regional director of Big Brother Big Sisters, says the 15th annual event usually raises $25,000 to $30,000 each year.
"It costs approximately $1,000 to make and maintain one match for one year," Price says. "The bottom line is if we make $30,000, that's 30 at-risk kids in our community that we are going to be able to match."
Price says about 25 adults and 80 children build houses ranging from the Allen Fieldhouse with little gingerbread fans to simple little houses. The houses are divided into two divisions — the kids' graham cracker division and adult gingerbread division — though children may compete in either division.
Lawrence resident Tanya Kaluga has participated in the event with her husband, Gregory Thompson, and daughter since 2006. While she and her husband have devoted several weeks to projects such as the White House, Empire State Building and Douglas County Courthouse, Kaluga says building gingerbread houses is not too difficult.
"It's really not that hard; anybody can build a simple house," she says. "We're not artists, and we're able to do it. Everybody should try it because it's fun."
Kaluga says in 2007 her family raised more $6,000 for Big Brothers Big Sisters, but last year that number dropped due to the slumping economy.
These projects can be time-consuming. For example, Thompson spent six weeks building the Empire State Building level by level. Kaluga says the time is worth it, though, because it's a bonding experience for her family and a great way to help the community.
"When you take it in and it gets auctioned off and raises the money, then it just feels that much better because we are doing something for the community as well as enjoying doing the project," she says.
Kaluga and Price both say even if people do not plan to buy a house, viewing them in the Eldridge is a real wonder.
"I think that it's a really fun way to kick off your holidays," Price says. "The kids and adults who build them put so much heart and energy into it that it's just magical to even look at the houses."
Copyright 2018 The Lawrence Journal-World. All rights reserved. This material may not be published, broadcast, rewritten or redistributed. We strive to uphold our values for every story published.