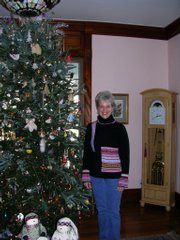 Past Event
When: Sunday, December 6, 2009, 1 p.m. to 6 p.m.
Where: Corpus Christi Catholic Church, 6001 Bob Billings Pkwy., Lawrence
Cost: $12 - $15
-->
-->
Jane Blocher loves the holidays — every single one of them.
At the end of every season, she pulls out several tubs jammed with decorations. She has tubs crammed with leprechauns. Tubs crammed with skeletons, crammed with Easter bunnies, crammed with Santas. You name it, she's got it.
"I'm embarrassed by the number of big plastic tubs I have just filled with seasonal decor," Blocher says. "I could fund my retirement with the money I spend on home decor. That's how bad it is."
And that's why Blocher is counting down to this year's Holiday Homes Tour. Six families and one church will open to the public so people can view their Christmas setup.
Blocher is one of the participants. And she's inviting people into her home in honor of Health Care Access, a nonprofit medical clinic that specializes in serving low income people who lack health coverage.
This December, the fundraiser celebrates its fifth year, and event coordinator Sally Zogry says it should be a successful season.
"These are the homes, generally speaking, of people who just go all out," Zogry says. "It's a very upbeat event. People are so excited because they really love this event."
Some of the tour participants open their entire home, and some just a crack open a couple of rooms. Some homes have themes — such as a house filled with nutcrackers or covered with snowmen. Other homes are more eclectic — Blocher's home is one of those.
If Blocher had to pick a theme for her home, she'd have a tough time. One central thread in all of her decorations, she says, is nature. Her house will be dotted with pine cones, Christmas trees and mistletoe.
"Our tastes run the gamut, but we use things that have a lot of color and a lot of pizzazz," Blocher says. "And we choose items that any budget can duplicate, items that are relatively easy to find."
Blocher tries to use her house to make a statement and this year, since it's her first year participating in the holiday tour. She doesn't want anyone to walk away from her home feeling it was a waste of time, so it's time to pull out and sift through the decorations.
The Holiday Homes Tour will also feature a bake and craft sale. Goods will be available at Corpus Christi Catholic Church, which is also on the tour.

"Quite a few of our patients enjoy baking for the sale," Zogry says, "because that's a way for them to contribute to the clinic without a big financial outlay."
Copyright 2018 The Lawrence Journal-World. All rights reserved. This material may not be published, broadcast, rewritten or redistributed. We strive to uphold our values for every story published.