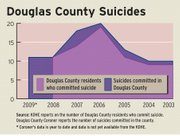 Where to find help
Thoughts of suicide are a way to cope with multiple stressors. And for people who commit suicide, it's the only solution they can see for stopping the pain, said Marciana Vequist, a licensed psychologist at Bert Nash Community Mental Health Center.
But the majority of her patients never follow through on those thoughts.
Here are some tips on how to reach out to someone who might be considering suicide:
• Headquarters Counseling Center has a 24-hour hot line to help people considering suicide. The number is 841-2345.
• If you suspect someone might have suicidal thoughts, ask them about it.
• Feelings of worthlessness or hopelessness are warning signs for suicidal thoughts, Vequist said. When a family member or friend expresses a feeling that everyone would be better off without him or her or that there is nothing that can change his or her situation, there should be cause for concern.
• Take seriously any threat or acknowledgment of suicidal thoughts. Provide support to the person, and encourage him or her to seek help from a mental health practitioner or someone trained in suicide intervention.
• Patients are often fearful that a therapist will automatically hospitalize anyone with suicidal thoughts, something that happens rarely, Vequist said.
• Marcia Epstein, director of Headquarters Counseling Center, urges anyone who is considering suicide to find someone to talk to, even if it is the person answering phones at Headquarters' hot line.
"It is important to get help from someone who is trained in suicide prevention," Epstein said. "Most people need to be able to talk, need to be able to do some immediate planning with someone with training on how to stay safe right now and then kind of building in next steps."
Two years ago, Rikki Kite drove over to her ex-husband's house, worried because he hadn't responded to a barrage of phone calls. Kite arrived about the same time as the emergency crews. She remembers thinking that the next few moments would be the worst she would ever have to live through.
But it turned out they weren't. Far worse was having to tell her grade-school-aged daughter that her father had died by suicide.
"Not a day goes by that I don't wish her father was still here to help me raise her," Kite said.
Kite's ex-husband was one of 14 Douglas County residents who committed suicide in 2007. It was a year, like the one before it, during which Douglas County's suicide rate was above the national average.
From all indications, the suicide rate in 2009 in Douglas County will also outpace the national average of 11 suicides per 100,000 people.
For the first six months of 2009, 10 suicides were reported in Douglas County, according to Marcia Epstein, director of Headquarters Counseling Center. That compares with 11 suicide deaths during all of 2008, according to the Kansas Department of Health.
Douglas County Coroner Erik Mitchell said that so far in 2009 he has ruled suicide as the cause of death in 11 cases. He is investigating 11 additional deaths, several of which could be determined to be suicide.
A complex decision
Like many people who have had relatives or friends die by suicide, Kite said her ex-husband's death left her with a feeling of guilt.
"When it's somebody's decision, whether it's a rational decision or not, it makes it so much more painful. You feel like you should have prevented it," she said. "That drives you crazy, if you allow it."
Her ex-husband, who was depressed and bipolar, had suicidal thoughts dating back to high school. But Kite believed that once they had a daughter he would never consider taking his own life.
"There was nothing in the world that meant more to him than her," she said. "But you can't control mental illness."
The reasoning that leads to a suicide is complex and doesn't hinge on one event.
"They don't just impulsively make a decision to die by suicide," Epstein said. "For adult deaths, there is going to be a lot that has been going on for a long time."
In the official rulings of death by suicide that Mitchell has made this year, almost all of them have been men. They ranged in age from 20 to 53, autopsy reports show.
In half of the cases, the victim had recently lost his job, was about to lose a job or was worried about his business. But the victims also had been struggling with relationship problems, car accidents and mental illness.
Mitchell's company, Frontier Forensics, investigates more than 100 suicides in Kansas each year. From those cases, Mitchell said, he sees three main categories of victims:
• Young people who want to make a statement.
• People suffering from severe mental illness.
• Adults who no longer want to be a burden on their friends and families.
Rose Foster believes that her 40-year-old husband, Gordon Foster, fit into the third category.
"He thought: 'It would be better for the kids and Rose if I wasn't here any more,'" Foster said. "He thought he was doing us a favor. Of course, he wasn't. But the pain was that intense."
Gordon Foster died when he jumped off the parking garage in downtown Lawrence in 2004. He had attempted suicide several times before and had been dealing with depression for almost a decade. At the time of his death, his wife had cancer and the family had just filed for bankruptcy.
"I think it was like a glass of water that started to overflow," Foster said. "He was worried about my health, worried about finances and struggling with his own issues. And I think it became too much for him."
Financial stress
Recently, media outlets across the country have linked an increase in suicide rates with the economic recession.
Lanny Berman, executive director of the American Association of Suicidology, said those accounts have been mostly anecdotal.
Because of a lag in when the federal government receives suicide data, it will be several years before public health officials will know with certainty whether suicides have increased during the recession.
With one notable exception, there has been no correlation between the country's economic downturns and the rate of suicide, Berman said. In 1933 — one year after the United States hit 25 percent unemployment, the highest in the country's history — the suicide rate soared. Suicide-related deaths peaked at 17.4 per 100,000 people.
Obviously, major life events can contribute to suicide, the association notes. And the current recession is providing its share of those events: job loss, financial strain, home foreclosures.
The suicide rate among people who are unemployed is two to four times higher than those with jobs.
"Other than the Great Depression, no increase has been seen over a dozen or so recessions since the '30s simply because no recession has been long and deep enough to produce an increase," Berman said. "That doesn't mean you won't see an increase."
Dealing with aftermath
For Foster, financial stressors contributed to her husband's mental strain.
"He wanted to be a better provider for our family, and he felt like he was not capable of doing that," she said.
Gordon Foster's death was emotionally, financially and spiritually devastating for his family. Ironically, that's something Foster is sure her husband never intended.

"What it does to the people they care about lasts a lifetime. You don't want to leave that legacy to the people that you love," she said.
Kite has similar thoughts about her ex-husband, whose death was a shock for most of his friends and family. The 44-year-old man was private about his mental illness and hadn't asked anyone for help in the days leading up to his death.
"I would like to think if he would have known what kind of impact it would have had, he would not have done it," Kite said.
Copyright 2018 The Lawrence Journal-World. All rights reserved. This material may not be published, broadcast, rewritten or redistributed. We strive to uphold our values for every story published.