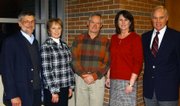 Three. Five. Nine. Fifteen.
What size makes the best board of directors?
That question was raised during the last meeting of the Lawrence-Douglas County Health Department Board, which is considering resizing.
The board has had five members since 1986 when a 10-member board was split into two.
Before the split, the health board was responsible for mental health services; but that responsibility was transferred to Bert Nash Community Mental Health Center, which now has a 13-member governing board and 12-member endowment board.
Shirley Martin-Smith, who served on the Bert Nash governing board for nine years, was appointed to the health board in April.
She brought up the idea of expanding the health board's size during its meeting Nov. 16. The idea sparked strong opinions.
Proponent of expanding
Martin-Smith favors a larger board because she believes it would provide better community outreach and bring more experience to the agency.
"It's about bringing a lot of knowledge to the table from a lot of different arenas in the community," she said. "I think that ideas are good and healthy and strengthen an organization."
Martin-Smith — who has lived in Lawrence for about 30 years, is a former Lawrence mayor and owns Adecco staffing franchise in Lawrence — has served on numerous boards including United Way of Douglas County and Douglas County Economic Development Board. She currently serves on boards for the Kansas Chamber of Commerce, the Community Commission on Homelessness and Cottonwood Inc.
Before being appointed to the health department board, Martin-Smith said she knew little about it.
"I tend to think that I am familiar with a lot of organizations, but this one I was not familiar with," she said.
She quickly learned that that health department does more than provide immunizations, check on water quality and offer support for low-income mothers.
"It's real focus is on improving health," she said.
An eye-opener was watching the American Public Health Association's YouTube video "Healthiest Nation in 1 Generation." It illustrates the need for Americans to become better educated about health, to make lifestyle changes, and then support others to do the same.
"That's going to take a lot of people to get their energy behind making those changes and getting that message out to everybody that lives in Douglas County."
She met with Director Dan Partridge who encouraged her to bring in about a dozen community members and get their viewpoints on the health department.
"Out of that meeting, we had a lot of people encourage us to consider expanding the board and do a lot more outreach to the community through those connectors," she said.
But, the rest of the board isn't so sure.
Proponents of smaller boards
Karen Shumate, vice president of clinical services at Lawrence Memorial Hospital, has been a member since 2007. She said it's not the size that matters, but members' skills.
"The health department is a very important entity in the county. They take care of a lot of services that many individuals have no way else to get," she said. "The discussion, as presented, had to do with marketing services of the department and getting the message out about what the department did, rather than what any member background and skill set would bring."
She believes a bigger board could be more difficult to manage and its members could be less engaged.
Dr. Alan Cowles, a Social Security disability advocate and chairman of the health board, also favors a smaller board and believes they can reach out to the community through a different avenue such as forming an advisory group.
"It's a matter about who is on them rather than the actual number," he said. "I generally favor smaller boards, but it's very hard to say that one like five or seven is better than the other. I think that our board is going to be very reluctant to expand beyond seven."
The other two members of the board are Dr. Gerald Pees, of Internal Medical Group, and Paul Liechti, assistant director of the Kansas Biological Survey.
"I don't really have any problem with expanding the board as long as we have some identified purpose for doing it," Liechti said.
For example, he said, if the board needed to better represent the demographics of the county.
"If we are lacking somewhere, maybe it would be a good idea to put on another board member that might be more attuned to that particular demographic," he said.
How it stacks up
The health department board is small when compared to other health groups in Lawrence. For example, Lawrence Memorial Hospital's board has nine members; Health Care Access, which provides medical care for the uninsured in Douglas County, has 14; Douglas County Visiting Nurses Association, Rehabilitation, and Hospice Care has 15; and K-State Research and Extension — Douglas County has nine.
-->
All of the directors said they were content with the sizes of their boards.
"I think one key to working with boards is to get a broad representation to bring a broad base of thinking to your board," said Bill Wood, director of the extension office. "If everyone on a board is a clone to each other, you limit the potential of brain power for your organization. Years ago I heard the comment, 'If a board always votes in total agreement, there are probably some board members not doing their own thinking.'"
When it comes to the makeup of county health department boards across the state, they differ.
In some — like Butler County, Jefferson County, Crawford County and Franklin County — the county commission serves as the board.
In Jefferson County, the health department has a three-member board and an advisory board of 14 members.
"The advisory board is our link to the various communities of the county who give us input, which is valuable in knowing the community's needs," said Eileen Filbert, administrator.
The Riley County-Manhattan Health Department has 11 board members and one city administration representative who doesn't vote. Chuck Murphy, director, said he would prefer a smaller board.
"They are much easier to work with," he said. "The major struggle as an administrator has been to keep the board informed and educated about our services, goals and accomplishments. I would recommend a board of seven who are interested, dedicated and willing to invest some time."
One size doesn't fit all
There is no right or wrong number, according to BoardSource, a national company that provides advice on building successful nonprofit boards.
Small boards tend to bring meaningful membership, add efficiency and are easier to manage. Large boards tend to bring diversity and inclusiveness, added expertise and shared workload.
Any change to the Lawrence-Douglas County Health Board would need to be approved by the city and county commissions.
Craig Weinaug, county administrator, said all board sizes have cons and pros.
"To say one is better than another, would be difficult to do," he said.
The board decided to table discussion until Martin-Smith conducted more research into the matter.
Copyright 2018 The Lawrence Journal-World. All rights reserved. This material may not be published, broadcast, rewritten or redistributed. We strive to uphold our values for every story published.