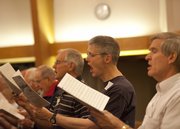 Past Event
When: Saturday, December 12, 2009, 7:30 p.m.
Where: Free Methodist Church, 3001 Lawrence Ave. , Lawrence
Cost: $8 - $10
-->
-->
The sounds of the season are modern, classic, French and American for the Lawrence Civic Choir as the group prepares for its annual Holiday Concert.
"It's a pretty eclectic concert and should have something to appeal to everyone," says Steve Eubank, artistic director. "It's the tinsel on the tree for a marvelous Christmas season."
Highlights of the concert will include "Gloria" by French composer Francis Poulenc, carols by the modern American composer Libby Larsen, along with an assortment of other carols and holiday songs.
The concert will be held Dec. 12 at 7:30 p.m., at the Free Methodist Church, 3001 Lawrence Ave. Tickets are $10 for adults and $8 for students and seniors.
Eubank returns for his eighth year with the choir. He also directs choirs at Topeka High School and Topeka's First United Methodist Church.
Many fresh voices have joined the choir this year. It had 29 new members show up for the first practice, says Jean Milstead, choir treasurer. Normally it might have about a dozen, she says. The new singers have bolstered the choir's numbers up to 115 members.
The choir has advertised more for new members this year, particularly on public radio, says Milstead. But Eubank points out that recent reports have shown that there is a renaissance going on for choirs right now. Chorus America, a choir advocacy group, reported that choir memberships have increased by 11 million people from 2003 to 2009.
Of the new members, quite a few are younger people, too. Milstead says the new members help add diversity to the choir, which often has had more older members.
"The demographic is marvelous. In the last three years, we're getting a lot of 30-year-olds and some grad students, which makes the choir more multigenerational," Eubank says.
The new voices do more than just add to the variety, though.
"As we get older, our voices aren't as strong, we can't sing as high, so new younger members are great," Milstead says.
The choir is working on learning some difficult music this year, but that is offset by some more fun music such as "Angels We Have Heard on High," says Milstead.
"Lawrence is a singing town, and these folks love to sing. To challenge them is very exciting," Eubank says. "The music is challenging but accessible to the audience and gives the choir something to sink their teeth into."
The choir will also be performing a nontraditional version of "The Twelve Days of Christmas." Milstead says that the words are the same, but the style and arrangement will be unlike anything the audience has heard before.
The First Methodist Church Celebration Ringers bell choir will accompany the carols by Larsen. Eubank says that while the civic choir has performed with the bell choir previously, it's been several years since the last time, and this will be his first collaboration with them.
For "Gloria" by Poulenc, the choir will include brass accompaniment.
Severine Huchet, an alto in her second year with the choir, says she looking forward to performing the French pieces, even if they aren't traditional French Christmas songs. Huchet moved to the area from Europe. She sang in choirs in France, and wanted to join one here too.
"The great thing about singing in a choir is that you're singing by yourself, but you've got this stereo on both sides of you," Huchet says. "You're part of something greater."
Copyright 2018 The Lawrence Journal-World. All rights reserved. This material may not be published, broadcast, rewritten or redistributed. We strive to uphold our values for every story published.