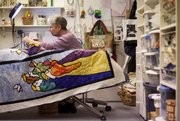 A little church in North Lawrence offers a world of perspectives of the iconic nativity scene.
The Centenary Methodist Church, 245 N. Fourth St., will display more than 100 unique nativity scenes for its 15th annual Festival of the Nativities. The nativity scenes come from all over the world and offer varying perspectives of the birth of Jesus.
Connie Hadl, a Centenary church member, says the display is more of an art exhibit than anything else. Many of the sets are meticulously carved from wood or shaped with porcelain in great detail.
Chris Jump, another church member, has accumulated more than 70 nativity sets from across the globe, including ones from Poland, India, Indonesia, South Africa and many from around the United States. Jump bought these sets at Christmas stores while traveling, purchased them on eBay or received them from friends and church members who found sets while traveling abroad.
One of Jump's favorite sets came from South Africa and was made from beads by Zulu women who used their beadwork to make money for their families. Another, from Utah, utilizes symbolism throughout the scene. For example, the three wise men represent three stages of man — a young man with gold to represent the pursuit of wealth; a middle-aged man with frankincense, an aromatic herb; and an old man with myrrh, which served as an embalming agent.
"One of the reasons I collect (the nativity scenes) is because I think it's important for people to see God in themselves, and so by reflecting a nativity that way, they have a connection to it in a different way," Jump says.
The display will be open to the public free of charge — though the church accepts donations — during the first three weekends of December, from noon to 4 p.m. Saturdays and Sundays. There will be music, spiced cider, a children's interactive nativity table and a gift shop along with the display.
Hadl says typically 500 to 1,000 people come to see the display, but she would like more to enjoy the artistic and worldly nativity wonders.
"It's a family affair, and we would love for more people to realize we're in North Lawrence," Hadl says. "It's something we consider our gift to the community."
She also says the festival is a great way to get away from the hectic pace of the Christmas season.
"I think that Christmas is a busy time during the year where people lose focus of what Christmas is really about," she says. "If they just want to slow down and just have a peaceful, serene surrounding and think about the reason we celebrate Christmas, they should come to our church."
Copyright 2018 The Lawrence Journal-World. All rights reserved. This material may not be published, broadcast, rewritten or redistributed. We strive to uphold our values for every story published.