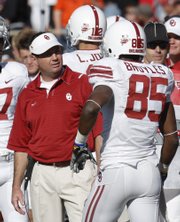 Norman, Okla. — Bob Stoops has never had a season like this at Oklahoma.
The injuries keep piling up, along with the losses. For the first time in Stoops' 11 seasons in Norman, the Sooners have lost five games in the regular season and are limping toward the postseason instead of trying to finish off another run to the Big 12 championship game.
"This is different, but there's been a lot of unusual circumstances around this year," Stoops said. "I'm not a knee-jerk guy, and I'm not going to overreact to it.
"In the end, I understand what we've had to deal with the whole year and to think that with the strength of schedule along with all the different players that we've played without, to think it's just going to be the same, it's not very realistic."
After last season's appearance in the BCS championship game, Oklahoma (6-5, 4-3 Big 12) has had to deal with the loss of tight end Jermaine Gresham for the whole season and Heisman Trophy winner Sam Bradford for most of it. Three offensive linemen have been sidelined with season-ending injuries.
Top receiver Ryan Broyles, tailback DeMarco Murray and left guard Brian Simmons have also missed games. Fullback Matt Clapp has played despite a broken hand, but his snaps have been diminished since he's no longer a pass-catching threat.
"It's made it incredibly difficult, not just when you have injuries but when you have them to seniors and guys that have played, have that experience, have that maturity and have the presence in the huddle and then you remove it," Stoops said. "There's a void there and you can't replace it."
Even while he admits he's never endured a rash of injuries this extreme, Stoops doesn't want that to be a crutch. Just look at Oklahoma's opponent in today's annual Bedlam rivalry game.
No. 11 Oklahoma State (9-2, 6-1) has been without All-America receiver Dez Bryant throughout conference play after he was ruled ineligible. A slew of other starters, including All-Big 12 tailback Kendall Hunter, linebacker Orie Lemon and offensive tackle Brady Bond, have been hurt.
"Everything in life doesn't always go your way. In the end, we've had a lot of fortune around here. This has been a very unusual year the way it's all happened and you have to work through it," Stoops said. "The fact that all these guys are out, you can't blame anyone for that."
Offensive coordinator Kevin Wilson said Oklahoma's coaches have tried both positive and negative motivational tactics this year, but he's sensed "a lot of negative vibes with our team this year" when past teams stayed upbeat.
"We as coaches have tried each week, and sometimes we've connected and sometimes we haven't — apparently, by our performances," Wilson said. "Regardless of any injuries we may have had, we still have had chances — until last Saturday — to have won games or been in games."
Stoops hasn't been a part of a six-loss season since 1992, his fourth year on Bill Snyder's staff at Kansas State during a massive rebuilding of the program that had the most losses in college football history when they took over.
Copyright 2018 The Associated Press. All rights reserved. This material may not be published, broadcast, rewritten or redistributed. We strive to uphold our values for every story published.