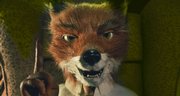 Review: **
Rating: PG, for smoking, slang humor
Length: 1 hour, 27 minutes
Theater: Southwind Twelve, 3433 Iowa
The films of Wes Anderson — among them "The Royal Tenenbaums," "Rushmore" and "The Life Aquatic with Steve Zissou" — are the very definition of an acquired taste: You either swoon over the director's fussily art-directed images, his hipster-speak dialogue, and his '60s mod music soundtracks, or (like me) you want to hurl heavy objects at the screen.
What's notable about his latest, "Fantastic Mr. Fox," based on the classic Roald Dahl children's book, is how readily Anderson's style adapts to the style of stop-motion animation. Imagine "The Darjeeling Limited" with talking fox heads on the actors' bodies, and you'll get a sense of this occasionally amusing, mostly listless, quintessentially Anderson-ian effort.
George Clooney provides the voice of Mr. Fox, a lifelong ne'er-do-well who — after nearly getting he and his wife (Meryl Streep) killed — pledges to lead a more responsible life. But Mr. Fox's wild streak is uncontainable. He yearns to move from his foxhole to a nice tree located just a stone's throw away from the area's three most violent, fox-hating farmers. Once settled there, he can't resist causing trouble and gobbling up more than his fair share of chickens.
Filmed using miniature models that are posed and re-posed on a soundstage, "Fantastic Mr. Fox" is a deliberate throwback to a pre-CGI era — in classic hipster fashion, Anderson prefers to do things old-school. But if the film is intriguing to look at for its first 15 minutes — the spindly foxes whose hair seems to move with the wind; the use of crinkling plastic to approximate rainfall — the images steadily turn static, and the lack of expressiveness in the characters faces makes it hard to get involved with them.
The bigger problem: "Fantastic Mr. Fox" isn't nearly as funny and entertaining as it needs to be. (The screenplay is by Anderson and "The Squid and the Whale" writer-director Noah Baumbach.) As with many of Anderson's pictures, this one revolves around a self-absorbed parent and the effect that has on his children — in this case young Ash (Jason Schwartzman), who feels that his father favors his more athletic and popular cousin Kristofferson (Eric Anderson).
There is something amusingly perverse about reconfiguring Anderson brand of emo melancholy for the 8-year-old. Yet what little kid would want to sit through (much less comprehend) such a self-conscious and affected movie?
"Fantastic Mr. Fox" builds to a climax in which Mr. Fox must gathers all his friends, including his badger lawyer (Bill Murray) and his rabbit neighbor (chef Mario Batali, of all people), to rescue Kristofferson, who has been kidnapped by those pesky farmers. But there's a limit to how much speed you can generate with stop-motion animation. "Fantastic Mr. Fox" jogs along when it needs to be sprinting to the finish line.
Much like in "The Life Aquatic" and "The Darjeeling Limited," the two low points in the Anderson canon, you can't shake the feeling that Anderson doesn't really care about entertaining his audience. (He also doesn't care much about female characters; Mrs. Fox, like most of the women is his films, is given nothing to do.) He's mostly just locking himself inside his hermetically-sealed universes and amusing himself.
Copyright 2018 The Lawrence Journal-World. All rights reserved. This material may not be published, broadcast, rewritten or redistributed. We strive to uphold our values for every story published.