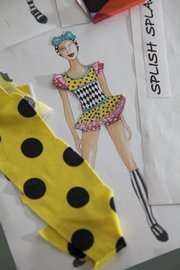 Oasis of the Seas is the largest cruise ship in the world: 225,000 tons, 16 decks, 154 feet wide and capable of housing 5,400 passengers in $1.4 billion worth of luxury.
Among the entertainment grand enough to fit such a ship, one will find the stamp of Lawrence, right there in the middle of the action.
Lawrence costume designer Julie Lesnikowski of Jordan Ross Designs spent hours upon hours imagining the fun and innovative costuming to outfit two of the ship's shows: "Hairspray," the traditional Broadway production, and "SplishSplash," a new show in the ship's water theater.
"This is the largest ship in the world, of course, and it has more entertainment on it than any other ship," Lesnikowski says.
The ship arrived in Fort Lauderdale, Fla., Nov. 13 after a two-week trip from a ship yard in Turku, Finland, that was its home during the six years it took from conception to completion. The ship will take its first regular passenger cruise Dec. 1 and until then is giving previews to media and special guests.
Once regular guests board the ship, Lesnikowski's work will be on display several times a week during the two shows, which represent the opposite ends of the spectrum for the kinds of designs Lesnikowski has done during her 15 years working with the cruise line.
For those not familiar with the play or movies, "Hairspray," is a period piece mixed with whimsy and camp. It's a known quantity where there are guidelines for designers like Lesnikowski, but there's the chance for her to put her own spin on things, too. And that's exactly what Lesnikowski did while working closely with "Hairspray's" director.
"It's certainly not as over-the-top and kind of crazy-looking as the Broadway show was. It's somewhere between the John Waters movie, which is very realistic, and the show on Broadway," she says. "It starts out being pretty realistic ... and then the finale is over the top, but clearly there's a whole trajectory of color and costume and the way this stuff tracks. It's very period, it's '62."
Then there's "SplishSplash." Lesnikowski had to design outfits that not only looked good but were versatile for synchronized swimming moves and 10-meter dives.
"(The costumes) are based on period swimming costumes from about 1910, but what I chose to do was do the period look but do it with fabrics that are modern and fun and funny," she says. "So, while they've got that silhouette, they still are very kind of modern and fun."
She's redesigned the show twice already and expecting more changes now that the performers are going through run-throughs before the ship's first passenger cruises.
"There will be a thousand adjustments between now and when the show opens in December," says Lesnikowski, who also was a pioneer in designing costumes for the cruise line's first ice skating shows. "It's a new venue, so it's a learning process for all of us."
Not only has Lesnikowski's work on the shows allowed her to stretch herself as a designer, they've created other business opportunities in Lawrence as well. Lesnikowski used blue lace from Sarah's Fabrics, 925 Mass., in a design last year.
"We carry a lot of fabrics, so I'm not surprised that she found things here. It's fun to have her use them," says store owner Sarah Fayman. "She's done it for years, so we've had quite a few things chosen. ... We enjoy it."
Copyright 2018 The Lawrence Journal-World. All rights reserved. This material may not be published, broadcast, rewritten or redistributed. We strive to uphold our values for every story published.