Photo Gallery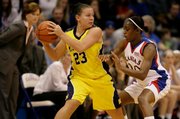 KU women's basketball vs. Michigan
KU defeated Michigan, 77-66 at Allen Fieldhouse.
Mostly they go by the nicknames Dee and Day.
Yet Kansas University seniors Danielle McCray and Sade Morris are often called Batman and Robin, too.
On Sunday afternoon, it was Robin who took the wheel of the Batmobile.
Morris scored a career-high 26 points to help KU dispose of Michigan, 77-66, in women's basketball in Allen Fieldhouse.
"Batman's sidekick was pretty good today," Kansas University coach Bonnie Henrickson said with a smile.
Of KU's two 5-foot-11 seniors, McCray is usually the dominant one, but Morris has had her moments, and Sunday was one of them.
With McCray struggling with her shot — she missed 15 of 20, including all five from beyond the arc — Morris cranked it up a notch.
"That's what seniors do," Henrickson said. "They don't start pressing, and they hit tough shots."
Basically, Morris took command in the last 91⁄2 minutes. Trailing by 11 at halftime, the Wolverines jumped right back in it early in the second half when they drilled five straight shots, three from three-point range.
With 9:28 remaining, Morris stepped to the foul line with Kansas nursing a 55-52 lead. She hit them both. Twenty-four seconds later, she nailed two more charities to provide a cushion the Jayhawks were able to protect the rest of the way.
Morris collected a dozen of her 26 — her previous high was 24 last February against Nebraska — in those last 91⁄2 minutes.
"Yeah, I knew we had to find a way to get buckets," Morris said, "and I was trying to penetrate to get them to foul me."
Six of her last 12 points were at the line, with the other six coming on drives to the basket.
Chances are, if McCray had struggled last year like she did Sunday, the Jayhawks might not have won. But this year's edition, ranked No. 19 nationally, has more firepower and more experience.
"If you key on one person, someone else steps up," McCray said, "and that's what Sade did tonight. That just shows our growth and maturity."
From the outset, it was clear Michigan coach Kevin Borseth felt the Wolverines' best chance was to stop McCray and point guard Angel Goodrich.
"Let's just say," Henrickson noted, "that that put their two best defenders on Dee and Angel, and Sade made the most of that."
Borseth also was concerned about preventing the Jayhawks from running and for the most part was successful.
"(McCray) is really a separator," Borseth said. "You have to spend a lot of time concentrating on her. We spent a lot of effort on her, but (Morris) stepped up and hit a lot of shots."
In addition to making only five of 20 shots, McCray was guilty of six turnovers, but she did snatch nine boards, six on offense.
"Danielle didn't make shots, but she played her tail off," Henrickson said.
In the final analysis, Sunday may have been a watershed game because it proved Kansas can win when McCray has an off night.
"Where we've grown," Henrickson said, "is we don't panic when she struggles. We used to panic when she would have a game like today."
Next for Kansas (3-0) is a trip to the Bahamas for a three-day, two-game tournament, starting with No. 9-ranked Xavier on Thanksgiving afternoon.
Notes
Lawrence High product Tania Jackson, who is being red-shirted, was on crutches after tweaking her surgically repaired knee in practice. "We think she's OK," Henrickson said. …Morris became the 21st KU player to score more than 1,000 points in her career. … Goodrich rolled a triple — seven points, seven assists and seven turnovers. … Michigan (3-1) has been predicted to finish 11th in the Big 10, promoting Henrickson to remark: "I'm not going to bet, but I'm pretty certain that team isn't going to finish last in the Big 10."
Copyright 2018 The Lawrence Journal-World. All rights reserved. This material may not be published, broadcast, rewritten or redistributed. We strive to uphold our values for every story published.