40-year celebration
An open house to celebrate the 40th anniversary of Headquarters Counseling Center will be 6 p.m. to 9 p.m. Dec. 16 at the Watkins Community Museum of History, 1047 Mass. It is open to the public.
"We Never Close."
That was the short but clear slogan for the Headquarters Counseling Center in central Lawrence when a small group started it in November 1969.
Four decades later it's a Lawrence institution.
Headquarters opened at the rented home of two Kansas University students, Brian Bauerle and David Nutt.
"We just had this idea about starting a center or a place where people could call or drop by to receive advice about services that were available in the community," Nutt said.
In the early days, people would show up at the house on the northeast corner of 15th and Massachusetts streets seeking help at all hours. Today the center at 211 E. Eighth St. always has someone available for counseling services, including a 24-hour suicide prevention hot line.
"Although it started as a drug abuse center, they started with this idea that we need a place where people need to have an easy place to get help when they need it," said Marcia Epstein, the executive director who first volunteered there in 1975. "That theme has continued through all of our 40 years."
Others who helped Bauerle and Nutt get Headquarters going in 1969 said the evolution of the agency is consistent with why it was founded in the first place.
"It started as an awareness that there needed to be a way for people to be able to talk confidentially with someone about problems that they were having and get some guidance on where they could go to get some help," said Robert Shelton, a KU associate professor of religious studies.
'Wonderful support group'
Growing up in the area, Carol Latham had heard of Headquarters, but she said she never thought her family would need to use its counseling services.
The Lathams' son, Christopher, committed suicide on Sept. 12, 2003, after he had wrecked a car. It's a day that continues to haunt the family, including Carol, her husband, Carl, and their daughter, Ashley Causer.
"I wouldn't be where I am without Headquarters," Carol Latham said. "And the people that I've met, other survivors, it's just a wonderful support group. Every community ought to have a Headquarters."
The group has helped with the grieving process, and Latham still attends when she can.
Epstein, who lost her mother to suicide six years ago, said it's important to provide bereavement support to families and prevention efforts through outreach to students at schools in Douglas County.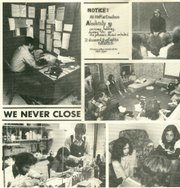 Like most nonprofit organizations, a major challenge for Headquarters today as it aims for the future is its budget. It has about a $200,000 budget with funds from the United Way, Kansas University Student Senate, the city's alcohol tax fund and fundraising efforts.
It also relies on the 30 volunteer counselors, who undergo training before they are able to start manning the center and its phones. Epstein said there were more volunteers 25 years ago, when the agency had about 90 helpers.
"They are small, but they have a big heart, with a big mission, filled with passionate people who are willing to go the extra mile to save lives," said John Draper, director of National Suicide Prevention Lifeline.
Today, Epstein said, the need for counseling services in Douglas County is increasing. In 2008, the counseling and information services were used more than 18,000 times, a 15 percent increase from 2007.
"We are receiving even higher amounts of calls about depression and suicide, especially financial and job concerns," she said.
The future
Even with the challenges, Epstein said the fact that Headquarters is one of the oldest centers of its kind in the country emboldens the center's mission.
There is still plenty of work to do. Douglas County Coroner Dr. Erik Mitchell has ruled that 11 people committed suicide so far this year with other cases still under investigation. The yearly national rate is 11 suicides per 100,000 people.
Douglas County's suicide rate is traditionally about equal to the national rate.
"Even if it's at the national average," Epstein said. "That's not something for us to accept as OK."
The next major project for Headquarters is trying to form a connection with health care providers. Headquarters leaders want to have counseling services available at clinics like Health Care Access, which serves the uninsured.
"A lot of people aren't going to go a mental health provider, but they are going to go to their primary care physicians," Epstein said.
Staff members and volunteers also want to keep spreading the word about the success of the first 40 years.
As leaders with Headquarters look toward future decades, the two KU students who started it at a house they rented are happy to hear about new goals. They're also glad that someone is answering the phones 24 hours a day.
"My motivation for doing it?" Nutt said. "Personally, it was to hopefully see it grow into what it has become today."
Copyright 2018 The Lawrence Journal-World. All rights reserved. This material may not be published, broadcast, rewritten or redistributed. We strive to uphold our values for every story published.