Movie
The Twilight Saga: New Moon
** 1/2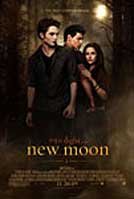 The "Twilight" soap opera continues with a lighter, goofier and less erotically charged sequel. The threat of sex is gone in this golden-hued virginity metaphor. But it's a funny film, a movie in on the joke that the most luscious girl in rural Forks, Wash., might be fought over by pale vampires and buff Native-American werewolves.
Get movie listings, reviews, and more at lawrence.com
-->
-->
The "Twilight" soap opera continues with a lighter, goofier and far less erotically charged sequel, "New Moon," a movie directed by a man and not a woman.
Thus, the sex and the threat of it are gone in this golden-hued virginity metaphor, a teen romance novel that Mom might approve of. But it's a funny film, a movie in on the joke that the most luscious girl in rural Forks, Wash., might be fought over by pale, aged vampires and buff, Native-American werewolves.
That flip tone - the gags and one-liners - get us past the longing, the depression, the sulking, the almost comically swooning moments when Bella (Kristen Stewart) goes weak in the knees, determined to abandon her humanity for her one true love, 109-year-old high school hunk vampire Edward (Robert Pattinson).
"You can't trust vampires, trust me," he purrs.
Then Edward stupidly ditches Bella in a dense Washington state forest. Hey, he had no choice. She's been nagging him to "Change me" - the nakedly obvious vampire-virginity metaphor. And Edward, being gallant in addition to oh-so-pale, won't have it.
Chris Weitz ("About a Boy," "The Golden Compass"), working with a larger budget than Catherine Hardwicke had in the first film, conjures up vivid, ghostly visions of Edward, who still watches over Bella after he's abandoned her. His image warns her away from cliff diving, bikers and riding without a helmet. But her "recklessness" has her thinking that death will unite them, or that danger to her will bring him back. And that's not happening.
What is happening is old family friend Jacob (Taylor Lautner), who's been hitting the gym. Either that, or he's secretly a werewolf, coming of age just in time to fend off fresh threats to Bella from the same folks we were sure Edward's clan had fended off and/or killed off in "Twilight."
Bella notices Jacob: "You're sort of beautiful."
"I won't let you down," he promises. Then he turns into a digital dog and things get even more complicated.
Stephenie Meyer's novel keeps Edward at a distance for the most part, and the film does the same, bringing him back for an eye-roller of a finale. Weitz's comic touch shows in casting (he brings in Graham Greene as a funny, vampire-savvy Native American character) and in many a comic exchange.
"Freaked out yet?"
"You're not the first monsters I've met."
"That's right. You're good with weird."
The saga sags when Bella triple-dates to a zombie movie, where all the jokes about weary monster-genre movies sting with the awareness that the pot is mocking the kettle.
Stewart plays grief rather than naked lust this time, and it's not her strong suit. Her best moment - reaching out and pushing Jacob back, letting her hand hit the middle of his new six-pack and linger there, tempted. The whole series seems too chaste for her, though not for Pattinson, who so underplays Edward that his golden contact lenses and perfect hair do most of his work for him. He may kiss her and kiss her good. How he got to be 109 and hang onto his schoolboy clumsiness is a Van Helsing-sized mystery.
And "New Moon" goes completely off the rails the first time we see the great British character actor Michael Sheen ("Frost/Nixon") show up, in full Roddy McDowell regalia, as leader of the vampire nobility, the Volturi. He's done an "Underworld" movie or two, he knows how this goes, but he's laughably broad here, a bad performance by a fine actor. And his awfulness only sets the stage for an off-putting turn by Dakota Fanning, determined to be a teenager and be in a hit movie, even if her best acting is now a decade behind her.
At least this time the movie is more polished, the brawls (save for the silly wolves) more believable. Most of the laughs are intentional, and we get the sense that even though a guy directed it, he wants the mostly female fan base to revel in the overheated romance, the blood-enforced chastity and the sacrifices this toothy "Romeo and Juliet" tale serves up.
But you can't make a whole movie out of the balcony scene, all doe-eyed proclamations of true love that can never be. Sooner or later, "Twilight's" going to have to show its fangs.
Copyright 2018 The Lawrence Journal-World. All rights reserved. This material may not be published, broadcast, rewritten or redistributed. We strive to uphold our values for every story published.