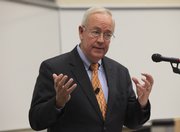 Speech highlights
Highlights from Ken Starr's visit to Kansas University:
• Starr says as time passes, he gets less questions about the Clinton investigation that led to the president's impeachment. "At the 10-year anniversary people asked questions, but since then, to coin a phrase, we've moved on."
• On whether in the last eight years, the executive branch has taken on too much power: "As a personal opinion, no, but I think it's always a question of dynamic tension, and there is always room for congressional oversight and congressional calling on the executive to account for its actions."
• He spoke at length about the importance of the constitutional amendment process. "The founding generation knew there was this horrible evil of slavery with which the convention struggled with."
• At the start of his speech, he held up a Kansas University basketball program and a copy of the Constitution. "Good luck to the Jayhawks. I say that having gone to the Duke Law School. Please don't boo too loudly because it will be misinterpreted."
If Ken Starr could change the U.S. Constitution, he would eliminate the requirement that the president must be a natural-born citizen.
"I think that was a very understandable provision at the founding, but it has long since outlived its usefulness," Starr said Thursday during an interview at the Kansas University School of Law.
He cited examples of Austrian-born Arnold Schwarzenegger and Canadian-born Jennifer Granholm rising to be governors of California and Michigan.
During a Thursday speech at Green Hall, the Pepperdine University law school dean urged dozens of Kansas University law students to think about the amendment process as their generation begins to take control of the country.
Starr, 63, is best known for serving as an independent counsel whose investigation led to the impeachment of President Bill Clinton. Starr has also served as a federal appellate judge and solicitor general.
During his speech sponsored by the law school's Federalist Society, he chose to talk about the Constitution in the wake of President Barack Obama's recent trip to China when he spoke to the Chinese about individual freedom and an open society. Starr said that as China emerges as an economic power, it has "not yet found its way with respect to what our president called universal rights."
"I think in light of what we're seeing globally with an interest in constitutionalism, individual rights, individual liberties and so forth, it's reason for us to be in a state of thoughtful celebration, but we should also be very, very thankful for what we have," he said.
Starr praised the American founders for having a vision that included creating the amendment process in the original Constitution. The Constitution was last changed in 1992 when the 27th amendment on congressional pay was ratified.
While he did not mention the Clinton investigation during his speech, during an interview Starr acknowledged the independent counsel system "was not a sound structure."
The House impeached Clinton in 1998 for perjury and obstruction of justice, but the Senate did not vote to remove him from office.
"We nonetheless believe in this country in the rule of law, that all persons are subject to the law and should be subject to the law," he said.
Copyright 2018 The Lawrence Journal-World. All rights reserved. This material may not be published, broadcast, rewritten or redistributed. We strive to uphold our values for every story published.