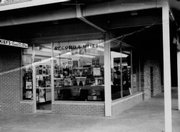 On the street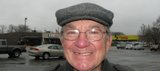 It's very convenient; I'm only a short distance away.
Open houses
• Kief's Audio/Video, 2429 Iowa, will celebrate the company's 50th anniversary in business during an open house from 4 p.m. to 7 p.m. Saturday. It is open to the public, and all former employees have been invited. John Kiefer opened Kief's Records and Hi-Fi in 1959 as an original tenant of The Malls Shopping Center, at 23rd and Louisiana streets.
• The Malls Barber Shop, which opened with the shopping center in November 1959, will have an open house from 1 p.m. to 3 p.m. Dec. 24, said Bob Brandt, the barber shop owner and shopping center manager.
John Kiefer remembers the early days when he opened Kief's Records and Hi-Fi in a space at The Malls Shopping Center, on the southwest corner of 23rd and Louisiana streets.
When the 11-store Malls opened 50 years ago Thursday, it was on the south edge of Lawrence. No gridlock on 23rd Street in those days.
"I watched cows all day long and never saw any people," Kiefer said.
For Kiefer — who moved his store out of the Malls in 1977 — the shopping center was a crucial piece in the development of his business.
Dyslexia forced Kiefer out of engineering school, and he started his own record store in the market of jazz, soul and blues albums. Today Kief's has grown into a successful audio retail business at 2429 Iowa that has a downtown music shop, 823 Mass.
Kiefer, now 77, still remembers the tough times when he sold records from a space that currently houses Wheat State Pizza. He'd pop next door and ask barber shop owner Joe Lesch basic questions, such as how to cash a check or to pay an employee.
"I really was naive. I don't know why I survived," Kiefer said.
Bob Brandt, who bought The Malls Barber Shop from Lesch in 1983, said the shopping center has remained successful because of loyal customers and its central location in Lawrence.
"We keep it clean, keep it up to date and keep it affordable," Brandt said. "In this day and age, that's the only thing you are going to be able to do to survive."
It has expanded in 50 years. Some stores have gone out of business, and some stores have moved around.
"A lot of it has changed, but a lot of the people who still come here have been coming here for years and years," said Brandt, who also manages the shopping center for owners P&T; Realty.
The Malls currently has four vacancies out of 21 spaces, he said. As Lawrence has grown west, some commercial real estate tenants have gravitated that way, but Brandt said that has slowed up, especially lately as business owners deal with overhead costs.
Kiefer remembers one deal he made at The Malls that helped his business grow. He began supplying some records for the TG&Y; store at the Malls.
"If we hadn't done it, we would have failed," Kiefer said.
It's a practice known as "rack jobbing," and soon Kief's was supplying 50 to 60 discount stores across the country.
Kiefer was able to eventually make his way into the audio business, and the store moved in 1977 to the Holiday Plaza Shopping Center, 2100 W. 25th St., before settling into its current location in 1988.
He attributes the company's success to several loyal longtime employees and being able to work with and tap into the market of Kansas University students.
"I've had some brilliant people work with me," Kiefer said.
Copyright 2018 The Lawrence Journal-World. All rights reserved. This material may not be published, broadcast, rewritten or redistributed. We strive to uphold our values for every story published.