Join "Jayni's Kitchen" this week for "A Non-Traditional Thanksgiving Dinner." Kathie and Patrick Nichols, Lawrence, share some recipes with host Jayni Carey.
Pork Tenderloin Medallions with Cranberry Chipotle Sauce
1/3 cup Cranberry Orange Sauce (recipe follows)
2 whole pork tenderloins, 2 to 2 1/2 pounds total
Salt and black pepper
1 to 2 tablespoons olive oil
1 to 2 tablespoons butter
1/2 cup (2 medium) shallots, finely chopped
1 cup chicken broth
1 7-ounce can chipotle chile peppers in adobo sauce (use 1 or 2 chipotle peppers, seeded and finely chopped, plus 1 1/2 to 2 teaspoons adobo sauce)
Prepare the Cranberry Orange Sauce (recipe follows).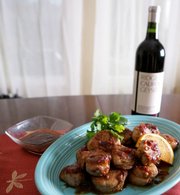 Cut the pork tenderloin into 1-inch thick medallions. Sprinkle them with salt and pepper. Heat 1 tablespoon each olive oil and butter in a large skillet over medium-high heat. When hot, add half of the pork medallions (do not crowd) and cook for 3 to 4 minutes, until browned. Turn the medallions over, reduce the heat to medium and continue cooking for 2 to 3 minutes more, or until desired doneness is achieved. Remove the pork medallions from the skillet to a platter and cover with aluminum foil to keep warm. Repeat with the remaining medallions, adding more oil and butter to the skillet if needed. Add the chopped shallots to the skillet drippings and cook over medium heat, turning often, until softened, about 2 minutes. Stir in the chicken broth, raise the heat to medium-high and simmer until reduced by half. Pour the mixture through a strainer to remove the shallots, then pour the liquid back into the skillet. Stir in 1/3 cup Cranberry Orange Sauce. Add 1 or 2 seeded and chopped chipotle peppers and adobo sauce, to taste. (Taste to make sure the heat of the chipotle peppers does not overwhelm the Cranberry Orange Sauce, adding more cranberry sauce to balance if needed.) Stir until the sauce is thickened and bubbly, 1 to 2 minutes. Return the pork medallions to the skillet and turn to coat with the sauce.
At the table, serve the pork tenderloin medallions with extra Cranberry Orange Sauce and the remaining pan sauce so guests can balance the flavors to taste. Serves 6.
Cranberry-Orange Sauce
1 1/2 cups water
2 cups sugar
16 ounces fresh cranberries, rinsed and drained
1/2 cup orange juice
3 tablespoons orange zest
Heat the water and sugar in a saucepan over medium-high heat, stirring to dissolve the sugar. Bring to a simmer and add the cranberries and orange juice. Reduce the heat to low and simmer the sauce for 25 to 35 minutes. As the sauce simmers, do not stir, but skim the accumulated foam from the top as needed. Cook until slightly thickened (sauce will continue to thicken as it cools). Stir in the orange zest and transfer the sauce to a bowl. Makes 3 to 4 cups of sauce.
Sweet and Yukon Gold Potato Gratin
1 teaspoons fine sea salt
1 teaspoon freshly ground black pepper
1 tablespoon minced fresh Italian parsley
1 tablespoon minced fresh rosemary
1 tablespoon minced fresh sage
1 tablespoon minced fresh thyme
1 1/2 pounds medium Yukon Gold potatoes
1 1/2 pounds medium sweet potatoes
2 cups heavy whipping cream
1/4 cup (1/2 stick) butter
2 garlic cloves, minced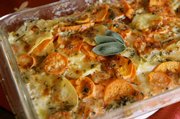 11/2 cups (packed) coarsely grated Gruyère cheese (approximately. 6 to 7 ounces)
Combine the sea salt and black pepper in small bowl. Combine all chopped herbs in a separate small bowl.
Peel the Yukon gold potatoes and cut them into 1/4-inch rounds. Place them in a large bowl filled with cold water to keep them from turning dark. Repeat with sweet potatoes.
Combine the cream, butter and garlic in a saucepan and bring to a simmer over medium-low heat. Remove the pan from heat.
Butter a 13-by-9-by-2-inch glass baking dish. Drain the potatoes and pat them dry with paper towels. Transfer half of potatoes to the prepared baking dish, distributing them evenly in the dish. Sprinkle with half of salt and pepper mixture, then half of the herb mixture. Sprinkle with half of grated cheese. Repeat with remaining potatoes, salt and pepper mixture, herb mixture and cheese. Pour the warm cream and butter mixture over the top, pressing lightly to submerge the potatoes as much as possible. Cover the gratin tightly with aluminum foil and bake in a 400-degree oven for 30 minutes. Uncover; bake until the top of the gratin is golden and most of liquid is absorbed, about 25 minutes longer. Let stand for 10 minutes before serving. Serves 8 to 10.
Do-ahead tip: The recipe can be assembled 6 hours ahead. Cover with aluminum foil and refrigerate until ready to bake.
• See a recipe for Pumpkin Ice Cream Pie with Toffee Sauce and Chocolate Almond Bark at FreeStateStudios.com.
— Recipes by Kathie and Patrick Nichols.
Copyright 2018 The Lawrence Journal-World. All rights reserved. This material may not be published, broadcast, rewritten or redistributed. We strive to uphold our values for every story published.