Book-signing
What: Barry Smith will give a book-signing for "Only Milo" (Inkwater Press)
When: 3 p.m.-7 p.m. Friday
Where: Hastings Books, 1900 W. 23rd St.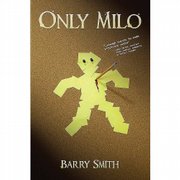 Barry Smith had just missed the breakfast service at the diner in Pratt by 10 minutes. That slight time difference sparked a story. As Smith sat there reading a book translated from Spanish he had just received from his son for Christmas, his lunch arrived at the table: a bad Reuben sandwich.

"I knew that was it," Smith says. "That was the first line."
Smith, a 62-year-old finance professor at Emporia State University, had come to Kansas to write. And three short years later, Smith published his first book, "Only Milo," on Sept. 1.
"Kansas plowed the land for this Milo story," Smith says.
The finance professor left New Mexico State University in Las Cruces to start his transition into retiring and writing. He had been publishing in the academia arena for about 25 years, but textbooks and novels are two different things. They each have their own style, just like finance compared to writing.
"They are obviously different material, but for both you just have to use a different form of creativity," Smith says.
The writing style of Smith's book follows a rhythmic pattern. Some chapters contain as few as two lines to keep the story flowing. His background in music could be the influence. He grew up the son of a piano teacher and a clarinet and piano player himself.

"I think it is very unique," Smith says. "I guess I haven't seen anything like it."
So far Smith has given three book signings, two in Emporia and one in Topeka. The first signing was composed of 12 authors, so there was good traffic and a lot of buzz.
"It feels good to know someone is actually reading it," Smith says. "Most people just want to have a local author sign their book, but I have had two people come who had already read it. That was exciting."
The most inspiring news about his novel has come from critics like Larry Colton, a Pulitzer Prize nominee and Community of Writing founder. He says Smith's novel had "enough twists to make Hitchcock smile."
When Smith looked into publishing his book, he found a connection through a previous university he was at to a small publishing house called Inkwater Press in Portland, Ore. This little detail happens to coincide with Milo, the main character in the book, who happens to find a West Coast publisher, too.
Regarding the publishing house, Smith found interesting their promise to read his novel and the company's sustainability efforts.
"Sometimes a publishing house could be like a black hole, and no one might ever read it," Smith says. "Plus, since they are a very green company, I could submit my novel electronically."
When Smith first sent "Only Milo" to the publisher, it only had a part one, but after spring break there was more. By the time it was published, "Only Milo" had three parts.
The quick process from idea to novel mimics the fast-paced action of the characters. He started the book just after Christmas, and it was published less than a year later.
"I have a son who is also a writer, and it has taken years to have things happen," Smith says.
Smith will be in Lawrence for a book signing from 3 p.m. to 7 p.m. Friday at Hastings Books, 1900 W. 23rd St.
In the last year, Smith has gone from a bad Reuben sandwich to signing a published book with hopes of more to come.
"My next book, I think, will be completely different from 'Only Milo,'" Smith says. "I am still deciding on it, though."
Copyright 2018 The Lawrence Journal-World. All rights reserved. This material may not be published, broadcast, rewritten or redistributed. We strive to uphold our values for every story published.