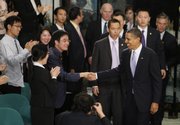 U.S., Russia put pressure on Iran
Shanghai — Presenting a united front in an effort to restrain Iran's nuclear energy program, President Barack Obama and Russian leader Dmitry Medvedev warned Sunday that they were losing patience with Tehran and will not wait much longer for it to accept a diplomatic proposal to resolve the dispute.
After an hourlong private meeting in Singapore, on the sidelines of an Asia-Pacific group summit, the two leaders expressed dissatisfaction with Iran's response to a proposal to ship its enriched uranium abroad to be turned into fuel for a Tehran medical reactor. In Geneva last month, Iran agreed to the deal in principle, but U.S. officials said Iranian leaders have since thrown up obstacles.
If Tehran is defiant, Obama said, "the alternative would be an approach that would involve increasing pressure on Iran to meet its international obligations."
Medvedev, for his part, said, "We're still not satisfied with the pace of advancement of the process."
Although other Russian leaders have been less enthusiastic about the prospect of increased economic sanctions, U.S. officials said the deadline for Iran to act is the end of the year.
Shanghai — Pressing for freedoms on China's own turf, President Barack Obama said today that individual expression is not an American ideal but a universal right that should be available to all.
In his first presidential trip to Asia, Obama lauded cooperative relations with China but sought to send a clear message to his tightly controlled host country. Just as Obama said few problems can be solved unless U.S. and China work together, he prodded China to accept what he called "universal rights."
"We do not seek to impose any system of government on any other nation," Obama said at a town hall at a museum here, believed to be the first such forum held by a U.S. president on Chinese soil. "But we also don't believe that the principles that we stand for are unique to our nation."
He added: "These freedoms of expression, and worship, of access to information and political participation — we believe they are universal rights. They should be available to all people, including ethnic and religious minorities, whether they are in the United States, China or any nation."
Obama sought to find a political balance with China, addressing long-standing U.S. concerns about human rights but extending his hand to a critically important partner on economic and security matters.
"More is gained when great powers cooperate than when they collide," he said in his opening statement.
In one form or another, though, the theme of free expression kept emerging.
"I'm a big supporter of non-censorship," Obama said in the course of answering one question about Internet usage. Given where Obama was speaking, such a comment was pointed. China has the world's largest population of Internet users — and the world's most extensive system of Web monitoring and censorship.
With a smile, Obama said he has never used the popular social networking site Twitter. But he broadly defended unrestricted Internet access as "a source of strength." And he said the free flow of information, including criticisms of his presidency, has helped by forcing him to consider other opinions.
The town hall was considered a signature event of Obama's weeklong trip to Asia. He was to end his day in Beijing in meeting with Chinese President Hu Jintao.
China is a huge and lucrative market for American goods and services, and yet it has a giant trade surplus with the U.S. that, like a raft of other economic issues, is a bone of contention between the two governments. The two militaries have increased their contacts, but clashes still happen and the U.S. remains worried about a dramatic buildup in what is already the largest standing army in the world.
Amid all that, Obama has adopted a pragmatic approach that stresses the positive, sometimes earning him criticism for being too soft on Beijing, particularly in the area of human rights abuses and what the U.S. regards as an undervalued Chinese currency that disadvantages U.S. products.
Obama said there are few global challenges that can be solved unless the U.S. and China cooperate.
As nations prepare for next month's climate change conference in Copenhagen, Obama said leaders will be watching what the U.S. and China do. He says "that is the burden of leadership that both of our countries now carry."
The two nations are working together more than ever on battling global warming, but they still differ deeply over hard targets for reductions in the greenhouse-gas emissions that cause it.
Copyright 2018 The Associated Press. All rights reserved. This material may not be published, broadcast, rewritten or redistributed. We strive to uphold our values for every story published.