Leavenworth — Editor's note: Reporter Mark Boyle takes us behind the scenes of news stories in the area. This week, he catches up with members of the U.S. Army in charge of evaluating and testing the military's latest equipment. Protecting our soldiers is the top priority for the U.S. government, and it has developed a way to do just that through military robots.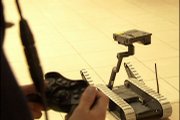 WALL-E, meet SUGV.
The character in the Pixar animated film of 2008 has a real-life counterpart, which was developed by a company known for robotic vacuum cleaners. iRobot and Boeing have constructed a robot ready to enter overseas combat in the U.S. Army.
"One of the things I identified was some of the lack of equipment in Iraq and the lack of effectiveness of that equipment," said Darius Anania, a U.S. Army captain and member of the evaluation and testing unit.
Anania served two tours of duty in Iraq and Afghanistan and, with help from his company, has exhaustively tested the Small Unmanned Ground Vehicle, or SUGV. SUGV is a robot that acts as futuristic as it looks. The robot has four cameras, including a wide view and thermal camera, an infrared lighting system and a laser range finder. It's controlled with a remote that closely resembles an Xbox gaming system remote. I spent 10 minutes at the controls and was able to make it do everything but climb stairs, which would have taken slightly more time. Simply put, it's easy to learn.
SUGV will soon be replacing some soldiers on the battlefield.
"It keeps my soldiers out of harm's way for a longer period of time, prior to moving onto the objective," Anania said. "My soldiers would be in the cover and conceal position and I would use this piece of equipment to go forward and scout the area, gain and maintain visual contact with the enemy, before sending my soldiers forward."
SUGV's use in the field is effective when paired with several movement-triggered photographic sensors and an Unmanned Aerial Surveillance system (UAS). Together they make an intelligence gathering network that helps battalion commanders strategically place troops in war-torn areas.
"I have been in the Army 10 years; this is exactly what I have been waiting nine years for," said David Leyva, staff sergeant for the U.S. Army. "It's about getting our soldiers where we need to and getting them home, and this is just another way of ensuring safety."
On the battlefield, an enemy truck driving by a sensor will be photographed. Within 30 seconds, the photo can be seen by commanders in the field. With this technology, military leaders are able to make more educated decisions about engaging the enemy.
The access that SUGV provides is second to none. It can travel with soldiers right up to the building they are investigating, and it can be maneuvered around inside with a real-time glance at the scene behind closed doors.
The SUGV often stumbles upon volatile situations.
"We want to make sure that we keep our soldiers just a little bit safer on the battlefield. If we can put robotics forward at least for a short period of time, that's worth it," Anania said.
The SUGV, photo sensors and UAS are slated for deployment onto the front lines sometime in 2011, and soldiers and commanders say the time can't come fast enough.
To learn more about the SUGV or about military modernization, log on to www.bctmod.army.mil.
Copyright 2018 The Lawrence Journal-World. All rights reserved. This material may not be published, broadcast, rewritten or redistributed. We strive to uphold our values for every story published.