Photo Gallery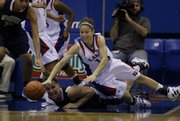 KU women's basketball vs. Oral Roberts
All five Kansas University starters scored in double figures to lead KU past Oral Roberts, 106-80, Sunday at Allen Fieldhouse.
KU scored 64 points in the first half, the most scored by a KU team in a single half since 1979. Oral Roberts trailed by 22 at the break and could not make up any ground in the second half.
KU's starters combined to score 92 points on 34-for-52 shooting from the field. Senior guard Danielle McCray led the Jayhawks with 27 points on 9-for-15 shooting. The preseason Big 12 Conference player of the year selection also grabbed 11 rebounds.
Junior Krysten Boogaard and sophomore Aishah Sutherland both enjoyed strong performances for KU in the post. Boogaard recorded 19 points and 10 rebounds while Sutherland scored 24 points and hauled in eight rebounds.
A pair of players led Oral Roberts (1-1): Forward Janae Voelker scored 29 points and guard Kevi Luper scored 24.
KU (1-0) scored 106 points in its season-opener last season against Hofstra.
The Jayhawks next travel to Iowa City, Iowa, to visit the Iowa Hawkeyes.
Pick up a copy of Monday's Lawrence Journal-World and log on to KUSports.com for additional coverage.
Copyright 2017 The Lawrence Journal-World. All rights reserved. This material may not be published, broadcast, rewritten or redistributed. We strive to uphold our values for every story published.