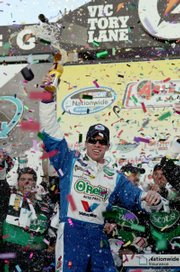 Avondale, Ariz. — Carl Edwards rolled to a dominating win at Phoenix International Speedway that temporarily staved off Kyle Busch's bid to clinch the Nationwide Series title.
Busch's first NASCAR championship is still a near-certainty — he only needs to start next week's race at Homestead-Miami Speedway to grab the title.
But early problems Saturday spoiled Busch's bid to get it out of the way. He spun his Toyota eight laps into the race, suffered heavy damage when he hit the wall, and had to battle to a ninth-place finish.
It wasn't enough, though, as Edwards picked up bonuses for leading the most laps and winning the race to put a halt to the celebration.
"I know Kyle's almost clinched the championship, but that's what we came here to do, win the race," Edwards said.
The race was marked by yet another run-in between rivals Denny Hamlin and Brad Keselowski during a late sequence of hard racing. Both were inside the top five when Hamlin tapped into Keselowski, who retaliated by hitting Hamlin twice. The second contact caused Hamlin to spin.
The running feud had many believing their would be post-race fireworks.
"I got out of my car as quick as I could, I thought we would see some action," second-place finisher Kevin Harvick said.
Nothing happened as Hamlin drove by Keselowski's parked car on pit road. But in a postrace interview, he warned he'll be looking for Keselowski in next weekend's finale.
"I can sit here and bash him for the next 20 seconds or so and give you all a bunch of soundbites, but I'm just happy that I signed up for next week's Nationwide race," Hamlin said. "There's a lot of guys that owe him. There's a lot of guys that have a lot of chips that they're going to cash in.
"I'm just going to be the first to the pay window."
That could be bad news for fifth-place finisher Keselowski, who is trying to catch Edwards for second in the Nationwide standings.
TENNIS
Paris Masters finalists set
Paris — Novak Djokovic overpowered Rafael Nadal, 6-2, 6-3, on Saturday to reach the Paris Masters final for the first time. The Serb will face Gael Monfils of France today. He advanced to the final with a 6-4, 5-7, 6-4 win over Radek Stepanek.
COLLEGE BASKETBALL
Williams big on Barnes
Chapel Hill, N.C. — North Carolina coach Roy Williams says the Tar Heels recruited prep standout Harrison Barnes harder than anyone in his career.
Barnes, a 6-foot-7 swingman, signed with the Tar Heels on Friday, choosing North Carolina from six schools that included national powers Kansas and UCLA along with rival Duke. Williams says the defending national champions spent about 16 months pursuing Barnes, who announced his decision by contacting Williams through an internet video conference call on a nationally televised broadcast.
"I said right up to the very end I would not have been surprised with any of the six choices, and I really wouldn't have been," Williams said Saturday during halftime of the Miami-North Carolina football game at Kenan Stadium. "We worked extremely hard and we've got a good product to promote, there's no question about that. I'd like to think that we're always going to try to outwork everybody else, but I wouldn't have been surprised" had he gone elsewhere.
Barnes joins point guard Kendall Marshall and shooting guard Reggie Bullock in the Tar Heels' recruiting class for next season.
OU signs swingman Clark
Norman, Okla. — Top basketball recruit Cameron Clark has signed an NCAA letter of intent to play for No. 17 Oklahoma. Oklahoma coach Jeff Capel announced Clark's signing Saturday after the Sooners beat Mount St. Mary's 95-71 in the season opener for both teams. Clark, a 6-foot-6, 185-pound swingman, is from Sherman, Texas and is ranked among the nation's 30 best prep players by major recruiting services.
NU lands Brazilian center
Lincoln, Neb. — A 6-foot-11, 315-pound Brazilian center has signed a letter of intent to play basketball for Nebraska next fall. Coach Doc Sadler says Andre Almeida is as talented as he is big. He says Almeida has good hands and footwork and knows how to score.
BOXING
Pacquiao stops Cotto
Las Vegas — Manny Pacquiao put on yet another dominating performance Saturday night, knocking down Miguel Cotto twice and turning his face into a bloody mess before finally stopping him 55 seconds into the 12th round.
Pacquiao used his blazing speed and power from both hands to win his seventh title in seven weight classes and cement his stature as the best pound-for-pound fighter in the world. Cotto took such a beating that his face was a river of red from the fury of Pacquiao's punches.
Pacquiao dropped Cotto with a right hand early in the third round, but he wasn't badly hurt and came back to finish the round strong. But after Pacquiao put Cotto on the canvas with a big left hand as Cotto was advancing forward late in the fourth round, Cotto was never the same again.
GOLF
McNeill shares Disney lead
Lake Buena Vista, Fla. — George McNeill closed with a double-bogey Saturday and will share the lead with three others entering the final round of the Children's Miracle Network Classic.
McNeill overcame a five-shot deficit and made two eagles on a cool day at Disney World that made greens fast but easy to reach. He shot a 3-under 69 that left him tied at 203 with Justin Leonard (71), Justin Rose (69) and Mathias Gronberg (66) after three rounds.
Woods wins in Australia
Melbourne, Australia — Tiger Woods won the Australian Masters for his seventh victory of the year, closing with a 4-under 68 today for a victory that record crowds at Kingston Heath came to see.
In his first trip Down Under in 11 years, Woods put on quite a show for his $3 million appearance fee.
He pulled away from a three-way tie for the lead with three birdies on his opening six holes, then seized control with a tee shot that covered the flag and stopped 6 feet away for birdie on the 15th. Woods has won 82 times around the world in 13 countries.
Casey to miss Dubai
London — Paul Casey has pulled out of next week's season-ending Dubai World Championship because of a rib injury and will miss out on finishing at the top of the European Tour money list.
Wie, Kerr tied at top
Guadalajara, Mexico — Michelle Wie moved into position for her first LPGA Tour victory, shooting a 2-under 70 on Saturday in the Lorena Ochoa Invitational for a share of the third-round lead with Cristie Kerr. Kerr had a 67 to match Wie at 10 under on the Guadalajara Country Club course. Second-round leader Jiyai Shin (74) was a stroke back along with Paula Creamer (71) and first-round leader Song-Hee Kim (70).
NBA
Grizzlies sign Tinsley
Memphis, Tenn. — The Memphis Grizzlies signed point guard Jamaal Tinsley on Saturday, adding a player with a checkered past and a 11⁄2-year layoff to their troubled team.
The Grizzlies announced the signing in a press release before their game against the Minnesota Timberwolves. Tinsley was bought out by the Indiana Pacers in July, but has not played in the NBA since the middle of the 2007-08 season. He was still under contract with the Pacers, but told to stay away from the team last season.
NFL
Chargers safety fined
San Diego — San Diego Chargers safety Eric Weddle has been fined $7,500 for unnecessary roughness for a hit in last Sunday in a win over the New York Giants. The NFL said Weddle made helmet-to-helmet contact with a defenseless receiver.
Copyright 2017 The Associated Press. All rights reserved. This material may not be published, broadcast, rewritten or redistributed. We strive to uphold our values for every story published.