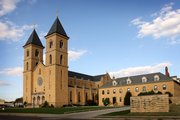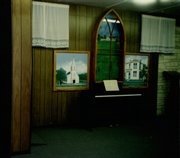 Rachel Gadd-Nelson is helping to make sure the faithful of Lost Springs aren't as forgotten as the town's name implies.
And she's finding out a bit about her family history as well.
Gadd-Nelson, a Kansas University junior from Kansas City, Kan., is taking part in a class aimed at using interviews to create an oral history of Kansas religion.
The idea, says KU professor Tim Miller, who is running the class, is to create an extensive database that documents where religion in Kansas has been and where we are going. To do that, Miller says, the students working on the project must cull together what they can before the information dies out.
"I was kind of motivated by this idea that we're going to lose stuff," says Miller, who created the class after completing a Douglas County religion project in 2003. "I mean, it's the nature of human civilization that we're going to lose stuff as time goes by, but it's a shame to lose important pieces of our past, and I'm trying to stop the outflow, as it were. It's very hard to do, and you'll not ever do it perfectly, but you'll make progress."
The class is the first of what Miller hopes to be a yearly offering by KU's religious studies department. Eventually, Miller hopes the information can be put online so that Kansas' religious history can be available to everyone.
"This is going to be years, you understand, we're in stage one, we're very early in the game," Miller says. "But we hope to make this the definitive source of Kansas religion that people all over the world, but especially within the state."
Little surprises
Students are on their own for choosing their interview subjects, though Miller has given some suggestions, as his immediate concern is finding and documenting defunct lesser-known groups before all the former members die out.
"One thing I've been focusing on is trying to see if we can figure out what is kind of off the beaten path, what are the unusual groups, whose stories, incidentally, are in danger of being lost in many cases," Miller says. "A small group that's not well-known is around for a while and then it disappears and that's the end of it, and I would like to record some of that while it's still available."
That focus yielded the first real surprise of the project. A student who had decided to check into a group called "Lawsonians" managed to find what the class believes to be final three members of the group in Wichita. Miller was impressed by the student's tenacity and says that there are more opportunities to find that kind of history because of Kansas' frontier state past.
"I think each place, each state, has its own distinctive things, and Kansas may have more than its share," Miller says. "It may (be) partly because of the pioneering history of Kansas, the free state struggles that helped shape the state. Also the real reputation for left-wing radicalism that Kansas had the late 19th and early 20th centuries. I think all of that makes an impact."
Family and history
Also making an impact is the lesson in family that some of the students are getting. Gadd -Nelson is one of the students using her own past to paint Kansas' history as well.
"So far, I have interviewed four women from Burdick and Lost Springs, Kan. They came from Lutheran, Methodist and Catholic backgrounds," she says. "My parents met in Lutheran seminary and my father was a Lutheran pastor for most of my life, and one of the women I interviewed was my grandmother, so I have had a wonderful opportunity to reflect on my family's religious history. I've gained a better understanding of the context in which my family lived and experienced religion."
She also hopes to unearth the stories of religious experiences and sexual orientation in the hopes of demonstrating Kansas' diversity of faith groups.
"I'm planning on interviewing people who identify as lesbian, gay, bisexual and transgender and talking about their experiences with religion," Gadd-Nelson says. "I have learned so much about the wide variety of religion in Kansas, and it makes me want to work really hard to break the stereotype that Kansas is just right-wing conservative Christian.
"There is such a wide spectrum of religion and spirituality in Kansas that I feel everyone, Kansans or otherwise, should learn about."
Meanwhile, classmate Jeffrey Caton, a senior in economics and religious studies from Buhler, is focusing on both the Amish and the Volga Germans, groups he also has close ties to.
"My mother's side of the family came from Victoria, Kansas, and is Volga German, and then I grew up outside of Hutchinson, around Yoder, and a lot of times saw the Amish around and thought those would be two fun groups to focus on," Caton says.
Both groups are among the more well-known to religious scholars familiar with Kansas, but Caton says whatever he can glean from those groups is important information that must be documented or die.
"There are books and there's quite a bit of stuff out there on the Volga Germans, it's not a terribly obscure group, but I think I'll be able to get a fair bit of information," he says of the group of ethnic Germans who emigrated from Russia during the 19th and 20th centuries. "I don't think I'm going to come up with anything earth-shattering ... (but the) one thing that I thought was real interesting was the chance to record older Kansans, whose memories will be gone with things that don't really make it into history books."
Copyright 2018 The Lawrence Journal-World. All rights reserved. This material may not be published, broadcast, rewritten or redistributed. We strive to uphold our values for every story published.