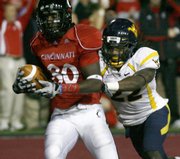 Cincinnati — Far from perfect, No. 5 Cincinnati was good enough to stay unbeaten. Now the Bearcats can try to run the table with their senior quarterback throwing the ball.
Tony Pike threw two touchdown passes in a cameo appearance Friday night, and the Bearcats overcame a self-destructive first half to beat West Virginia, 24-21, for the best start in school history.
Cincinnati (10-0, 6-0 Big East) struggled offensively because of uncharacteristic mistakes — a fumble, a dropped touchdown pass, a missed field goal and an interception — all in the first half. In the clutch, the Bearcats were good enough in front of the biggest crowd in Nippert Stadium's history.
"It's unbelievable how much winning can change a city and how much a city can rally behind you," said Pike, who was 2 of 4 for 16 yards and the two touchdowns.
A pair of sophomores who opened the season as backups led them through.
Isaiah Pead ran for a career-high 175 yards, and Zach Collaros threw for 205 yards in his fourth start for Pike, who is recovering from an injury to his non-throwing arm.
"We definitely shot ourselves in the foot a couple of times in the first half," said Collaros, who was 17 of 24. "We came back to the sideline and said, 'They're not stopping us. As long as we keep doing what we do and take care of business the way we have the last nine games, we'll be all right."'
West Virginia (7-3, 3-2) took advantage of the mistakes to keep it close, but couldn't break through.
The Mountaineers wasted a chance with 5:23 left, going for it on fourth-and-8 from the Cincinnati 24-yard line. Jarrett Brown's pass into the end zone while under pressure fell incomplete.
"I was going for the win," coach Bill Stewart said. "It was going to be tough to stop them. We really hadn't stopped them all night. I couldn't go for the field goal. I figured the game would go to the end."
Pead cut across the field on a 43-yard run on the next play that put Cincinnati in position to take control. Jake Rogers' 38-yard field goal made it 24-14 with 2:08 left. Brown's touchdown pass against a soft defense cut it to 24-21 with 39 seconds left and West Virginia out of timeouts.
Cincinnati's Armon Binns recovered the onside kick to finish it off.
"Every loss hurts, but this is a very tough loss," fullback Ryan Clarke said. "This kind of loss really hits you."
Copyright 2018 The Associated Press. All rights reserved. This material may not be published, broadcast, rewritten or redistributed. We strive to uphold our values for every story published.