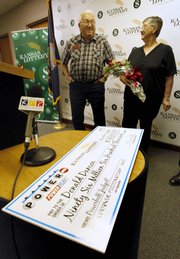 Topeka — Donald Damon was surprised when his daughter told him he had won the lottery. He was even more surprised when lottery officials told him how much.
Seventy-year-old Damon, who lives in Great Bend, figured it was $20 million or so, not the $96.6 million Powerball jackpot.
"They told me, and I said 'what?"' Damon said Friday at Kansas Lottery headquarters in Topeka. "I nearly fell to the floor."
Hitting the jackpot comes at a good time for the Damons. He was forced to retire in January after 27 years as a truck driver. His daughter, Karen, lost her job in August at Great Bend hospital. Damon's wife, Kathleen, works three jobs at the hospital, senior center and beauty shop, to pay the bills.
"I can't believe it. That's a lot of money," Damon said. "Talk to the man up there. He took care of me."
He purchased his ticket at the Dillon's store in Great Bend about seven hours before the drawing. He said he usually waits until the last few hours before buying his ticket.
The previous largest jackpot was won in 2000 when a group of airline pilots had one of three tickets that matched a $150 million jackpot. There have been 10 Powerball jackpot winners in all from Kansas. The most recent winner was a Topeka resident in 2006 who won a $15 million prize.
Karen Damon said she heard that someone in Kansas won the jackpot and checked her dad's ticket, noticing first that he matched the Powerball of 22. The other five matched as well, but she had not realized just how big the prize was.
"That's probably his new lucky number," Karen Damon said of the Powerball. "It was an awesome thing. My parents definitely deserve it."
Damon said he bought tickets all over while driving his truck, but never won more than $250.
"Most of the time it's nothing," he said. "I'm just getting some of my money back."
Damon said he would take the prize in one lump sum. Lottery officials said that, after taxes, Damon's share would be $33.8 million.
Some of the money would go to the family's churches, he being Congregational and his wife Catholic, Damon said. Some will be put to use to help other families who are struggling in the economic downturn "because I know about that," he said.
The rest will be spent on his family and traveling to places they could never before afford to visit. Damon said they "splurged" on $700 to $800 worth of new clothes after hearing they had won, which was hard for his wife to comprehend.
"It's hard to splurge on things you don't have yet," Damon said, adding later, "she about had a stroke."
Kathleen Damon was serving Thanksgiving dinner at the senior center when the family called to say "come home, you're done."
"This is our big dinner. I have to stay here," she said, leaving when her work was done a few hours later.
"I can't believe it. I keep thinking Monday morning I don't have to get up at 4 o'clock and go to work," Kathleen Damon said.
Copyright 2018 The Associated Press. All rights reserved. This material may not be published, broadcast, rewritten or redistributed. We strive to uphold our values for every story published.