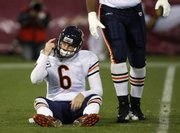 San Francisco — San Francisco's defenders figure the short week worked to their advantage: Jay Cutler couldn't change much in four days, and the 49ers knew what to expect from Chicago's quarterback.
San Francisco coach Mike Singletary didn't exactly hand it to his old team. Instead, Cutler handed the desperate 49ers a much-needed victory.
Frank Gore ran for 104 yards and a touchdown, Cutler threw a career-high five interceptions with his last coming in the end zone on the game's final play, and San Francisco snapped a four-game losing streak with a 10-6 victory Thursday night.
"I wouldn't say he was trying to force the issue," 49ers safety Mark Roman said of Cutler. "He was trying to make plays at a time when they needed a play to be made. We knew the ball was going to be in the air and we knew if we would be sound in our coverages we'd have opportunities."
Niners quarterback Alex Smith won for the first time in eight starts since Week 2 in 2007, 17-16 against St. Louis — but it was interesting until the end.
After Singletary elected to punt against his former team on fourth-and-6 from the Chicago 34 with 2:53 left, Cutler drove the Bears to the San Francisco 12 with 13 seconds remaining. After an incompletion on first down, Michael Lewis picked off Cutler's next attempt in the end zone as time expired. That sealed San Francisco's first victory since a 35-0 rout of the Rams back on Oct. 4.
"It's nice to be on the other sideline of that, that's for sure," Smith said.
The five interceptions by Cutler are tied for the most by a Bear since Zeke Bratkowski threw seven in a 42-7 loss to Baltimore on Oct. 2, 1960.
Cutler threw four or more interceptions for the second time this season and has an NFL-worst 17 in all. He became the first Bear since Billy Wade in 1962 to have two four-interception games in a season.
"I've played Thursday games before and been successful," Cutler said. "It didn't affect us. We saw everything coming. They didn't have any surprises for us. We just didn't execute."
Copyright 2018 The Associated Press. All rights reserved. This material may not be published, broadcast, rewritten or redistributed. We strive to uphold our values for every story published.