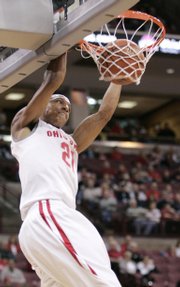 Columbus, Ohio — Ohio State coach Thad Matta chuckled when asked if his team had learned enough in two games to cope with what it will be facing in the next two.
"I hope so," he said.
Evan Turner followed up his triple-double with 24 points and 17 rebounds, and the 16th-ranked Buckeyes beat James Madison, 72-44, on Thursday night in the 2K Sports Classic.
They advance to meet sixth-ranked defending national champion North Carolina in the semifinals next Thursday night in Madison Square Garden. Syracuse and No. 13 California are the other matchup.
Turner had the program's second recorded triple-double in Monday night's opener, going for 14 points, 17 rebounds and 10 assists in a 100-60 win over Alcorn State.
Copyright 2018 The Associated Press. All rights reserved. This material may not be published, broadcast, rewritten or redistributed. We strive to uphold our values for every story published.