A woman from the Topeka area has died from the H1N1 influenza virus, bringing the number of Kansans who have died from the infection to 18.
The 48-year-old woman's death was reported to the Kansas Department of Health and Environment on Saturday, and her infection was confirmed in the KDHE laboratory on Tuesday.
The woman did not have any underlying health condition that placed her at greater risk for severe complications of influenza, KDHE officials said.
The symptoms of swine flu are similar to symptoms of seasonal flu and include fever of 100 degrees or higher, body aches, coughing, sore throat, respiratory congestion and, in some cases, diarrhea and vomiting.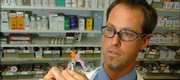 An outbreak of H1N1 Swine Flu was reported in Mexico in April 2009. By the end of May, it had spread across the U.S., with all 50 states reporting cases.
Copyright 2018 The Lawrence Journal-World. All rights reserved. This material may not be published, broadcast, rewritten or redistributed. We strive to uphold our values for every story published.