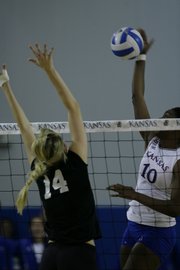 Wednesday night, at a sold-out Horejsi Family Athletics Center, Kansas University's volleyball team did something it had not done since KU coach Ray Bechard was in the middle of compiling his 716 career victories as the head coach at Barton County Community College.
KU completed a season sweep of in-state rival Kansas State, winning in straight sets on Wednesday, 25-19, 25-19 and 25-23. The victory marked the first time since 1993 that the Jayhawks had swept the season series with the Wildcats. Because the victory came in three sets — just like the earlier meeting in October in Manhattan — it also marked the first time in series history the Jayhawks won the series without the Wildcats winning a single set.
"I was probably in Great Bend, Kan., at a Hardee's having a big cheeseburger," said Bechard, asked where he was in 1993. "It's been awhile. And it was long overdue."
It also took very little time. The Jayhawks swept the Wildcats out of the gym in less than two hours.
"I was happy with how we ended games," said Bechard, whose team finished Set No. 2 on a 5-1 run. "We really kept the pressure on them. It looked tonight like we were the aggressor. We had them on their heels a lot."
The third set was the most competitive, but it didn't start that way. Behind the strong serving of sophomore setter Nicole Tate (35 assists, seven digs on the night), the Jayhawks jumped to a 4-1 lead and looked to be headed toward a rout. But Kansas State clawed back and actually led three times in the final set, the last coming at 15-14. From there, KU flexed its muscles yet again, using a heavy dose of Karina Garlington (13 kills) and an unusual kill from junior Allison Mayfield (16 kills) to bury K-State.
With the Jayhawks leading 20-19, Kansas State put together an attack that appeared to tie the set. But Tate chased down an errant dig to the back wall and flipped it over her head to Mayfield, who ripped a kill from just inside her own back line to the back line of the K-State side. Mayfield's magic gave KU a two-point cushion and appeared to demoralize the reeling Wildcats.
"We work a lot in practice on out-of-system balls," said Mayfield of the odd spot in which she went for the kill. "Those are always kind of iffy, but I just felt confident and took a swing. It felt pretty good when I hit it, then I saw them clearing away and thought it was out. But it caught the line. I'll take it."
Added Bechard: "You gotta take that risk to create that luck, and that's absolutely what she did."
In addition to becoming a significant chapter in the Sunflower Showdown series, Wednesday's victory snapped KU's four-game Big 12 home losing skid and also gave the Jayhawks (14-11 overall, 6-9 in Big 12 play) their most victories in a season since 2005.
"That's great to know," Mayfield said. "But we still have work to do. Hopefully we can add to that."
Copyright 2018 The Lawrence Journal-World. All rights reserved. This material may not be published, broadcast, rewritten or redistributed. We strive to uphold our values for every story published.